…SAYS TWO MILLION ILLICIT DRUGS SEIZED, 5,000 DRUG TRAFFICKERS ARRESTED, OVER 500 CONVICTED
Since January 2021, when the National Drug Law Enforcement Agency (NDLEA) came under the leadership of Brig. Gen. Mohammed Buba Marwa (rtd) as the Chairman/Chief Executive Officer, the agency has gone through tremendous innovations and lots of proactive ingenuity.
The number of arrests made and drugs seized in the past eight months have, probably, never been made in the past 30 years of its existence as a drug czar. With more than two million kilograms of illicit drugs seized, 5,000 drug traffickers arrested and over 500 convictions secured, the former Military Administrator of Lagos State has proven that he is a round peg in the square hole when it comes to fighting drug crimes.
It would be recalled that until his appointment in early 2021, Brig. Gen. Buba Marwa (rtd) was the Chairman of the Presidential Advisory Committee for the Elimination of Drug Abuse (PACEDA) spanning 2018 – 2020. This position probably allowed the retired Army General to have an on-the-spot assessment of the decadence which has eaten deep into the fabric of the nation. It is estimated that there are about 15 million citizens abusing drugs in the country.
In this exclusive interview with the National President of National Association of Online Security News Publishers (NAOSNP) in his office in Abuja, the Director of Media and Advocacy, NDLEA, Mr. Femi Babafemi expatiated more on the performances and potentials of the National Drug Law Enforcement Agency (NDLEA). He spoke on the roles that parents and the general public could play so that the country can drastically reduce the rate of drug abuse and addiction.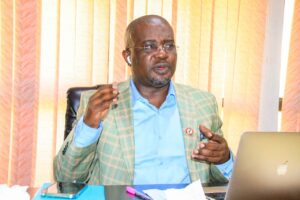 NAOSNP: NDLEA has received a tremendous boost under the leadership of Brig. Gen. Mohammed Buba Marwa (rtd). How has he been able to bring about this new reality?
Femi Babafemi: With the coming of Gen. Marwa in January 2021, he has changed a lot of things on the ground in NDLEA and the best way to show this is to give an overview of what has been happening between January and now, either in the area of Operations, Administration, or two major plans of the agency which is drug supply reduction and drug demand reduction.
Talking about drug supply reduction, the agency has in the past 5-6 months arrested over 5,000 drug traffickers from whom more than two million kilograms of drugs have been seized. Of this arrest, we have had more than 500 convicted in court. Also, we have 3000 still facing charges.
As I speak with you, we have counseled, rehabilitated, and reintegrated back into society a total of 2,772 drug abusers. What this shows is a fair balance between efforts on drug demand reduction and drug supply reduction.
In the area of drug demand reduction, we are also advocating that people should undergo a drug test. This is basically to ensure that those that are not yet on drugs are prevented from going into drugs and those that have started to make sure that they are discovered early and treated because the earlier we discover, the better for you because you can seek treatment.
This is why the Chairman has been advocating drug tests for intending couples, students – fresher and returning, those seeking public office, workers, so that we can save quite a number of people from slipping into the cycle of drug abuse. Approximately 15 million Nigerians are abusing drugs in the country.
NAOSNP: How have you been able to keep the officers and men of the NDLEA motivated for this task?
Femi Babafemi: In the area of administration, the new leadership met a number of issues on the ground. One of them is the issue of career stagnation of officers and men and that was why one of the first things that the Chairman did was to set up a Harmonization Committee and the result of that was the promotion of 3,506 officers of the agency which is about 70% of the workforce. As I speak with you, there are efforts in that regard as another committee is sitting on how to resolve the issue of harmonization of ranks and promotion of officers and men. We also talk about some of the liabilities met on the ground in terms of payment of entitlement to officers and men; death and burial expenses to families of deceased officers. Efforts are ongoing and in a few hours from now, families of 188 deceased officers will be paid their burial entitlements that have been lingering since 2014/15.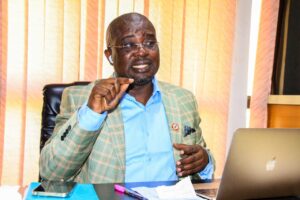 All of these are been done by the leadership to motivate and encourage officers to do their work. That is why today, you will see everyday arrests and seizures at the seaport, airport, land borders, on the roads, and across the country. What we do give out in our statement to the public is probably 0.1% of the figure of our arrests and seizures because we don't want to bore the public. We just pick a few of what we think are representative of the work of the agency so as to get the people informed.
We are glad that Nigerians now know the enormity of the problem of drugs in our country. The agency is not relenting yet because the agency has the support of the President, supporting the Chairman in every way possible and that is why we are going all out.
NAOSNP: In Nigeria, we have the issue of 'crime-fighting back when it is been tackled', what are you doing to ensure that criminals don't attack your men and officers?
Femi Babafemi: The work of the agency is intelligence-based. One of the things that the Chairman has done is to strengthen our Directorate of Intelligence to make them proactive and respond to threats, but beyond that, he has also created an "Elite Strike Force" which are well-trained, heavily armed, and is headed by a Director.
These are part of the things that the Chairman is doing to reinforce the confidence of the officers when they are going for operations and again to protect and secure vital installation and premises of the agency as well as other officers in their various assignments.
NAOSNP: In Nigeria, we have the issue of 'strong men but not-strong institutions', Nigerians are hopeful that these giant strides will not end with the tenure of Brig. Gen. Marwa, what are you putting in place to ensure that NDLEA will continue to be a strong institution beyond now?
Femi Babafemi: This is one of the things we are hoping that would happen. That is why whatever is being done now is building solid and strong structures for an institution that is already over 30 years old. There are quite a lot of concerted efforts being put in place to build a strong structure for the agency so that whoever is going to come after him will have something solid to build on.
NAOSNP: Talking about the incessant rate of addiction among youths, how do we nip it in the bud?
Femi Babafemi: There are quite a number of factors responsible for this and I tell you that the consciousness is there now because of the volume of arrests and seizures. Prior to January, we didn't realize it but the problem had been there. But because we are hearing of arrests and seizures know that is why everyone is surprised that the issue is this much.
Quite a number of factors are responsible. One of them is poor parenting because, for every problem, there is a root in the family level. And for the solution also, it must also start from the family level. When parents abdicate their responsibility to bring up their children, for example, a parent sending children to bring alcohol or drugs is indirectly encouraging the child to take the same thing.
Some parents also don't bother when they see changes in the attitude of their children. For instance, if your kids that you usually watch TV together are withdrawn into the room and you are not bothered to ask questions. When your child is avoiding eye contact with you meaning he is trying to prevent you from checking the redness of his eyes or hide something from you. Or suddenly your children start moving in the company of strange fellows. These are red flags that parents overlook to find out what is wrong and by the time they know, the kids are neck-deep into drugs.
We also have the issue of peer pressure. They want to try what their friends do. Social media influence is another. When they see what celebrities do, yet some of them may just be doing it for the sake of the art performance, some of these young ones go and try it and that is how we have a generation of addicts.
Then, we cannot run away from socioeconomic issues that lead people into drug abuse and addiction. They take drugs to forget their sorrows but drugs will only give relief for hours but in the end, when the drugs wear out, the problem is still there. Why do you have to compound your problem because the drug will affect your physical health? Some may even affect mental health.
NAOSNP: What more are you doing to end the scourge?
Femi Babafemi: Fortunately, we are not folding our arms. We are doing as much as possible to cut access to these drugs. That's why you see the volume of drugs that we are mopping up from the streets. We are even destroying the farms and those concealed inside the forests. By the grace of God and with the people buying in and taking ownership of the fight, it will be much easier to win than leaving it alone for NDLEA. We believe that we may all end up as victims if we don't all join hands to make sure that we rid our homes, communities, and country of this scourge.