…AS SENSITIZATION CAMPAIGN ENDS IN LAGOS
By Okosun Dennis
The plethora of Fire incidences in the country have been attributed to the carelessness of some Nigerians who often failed to observe precautionary measures that would mitigate fire disasters.
While rounding off a two-week awareness campaign which dovetailed into Mega Rally that saw firemen from the Federal Fire Service, Zone F, Lagos Command sensitizing Lagosians while marching through the streets, cautioned Nigerians on the need to be circumspect when handling fire to avoid disaster.
According to the Head of Investigation, Inspectorate and Enforcement, Federal Fire Service, Zone F, CSM Egbe Daniel in an interview with our correspondent said "99 percentage of fire incident is due to carelessness" and called on the government to do more by providing additional state of the art equipment to the service to deal with emerging fire disasters in the state.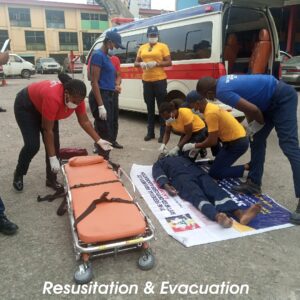 The Mega Rally which commenced at the Surulere Fire Station, Nigerian Fire Service on Tuesday, rolled out drums as they walk through Ojuelegba roundabout to Yaba and back to their office sensitizing Lagosians and shared leaflets to the public outlining precautionary measures; do's and don't on how to check fire disasters.
Earlier in his brief, the Assistant Comptroller of Fire Nwuzor Charity said it is better to prevent fire rather than put extra efforts at fighting it noting that this can be achieved by sensitizing the public on the need for fire prevention.
On the effect of fire on the economy, she explained that "it is a common knowledge that disaster affects the economy in many ways, such as death, destruction, extensive damage to property and loss of morale" adding that "proactive safety preparedness can protect the economy from collapsing.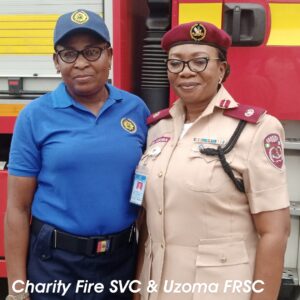 "Fire prevention is a collective responsibility, the private sectors, cooperative safety and the well-being of the nation as a whole.
On the problems they are encountering getting to fire scenes, the Assistant Comptroller of Fire lamented the inaccessible and narrow roads in the state which often times, are blocked due to road construction reiterating that "these make it difficult for our men to access some of the scenes on time. It can be terrible."
Charity, while advising parents, admonished them to educate their children not to misuse matches and cooking gas especially during this harmattan period noting that fire spread exponentially during this period hence the service places premium on "fire prevention rather than fighting the fire."
While delivering his lecture on "Fire Prevention Tips", CSM Egbe Daniel expressed his commitment to engaging relevant stakeholders by taking proactive measures to deal with incidences of fire outbreaks. He further stated that all efforts must be channelled towards prevention as it would keep the economy growing when we have fewer fire disasters.
Adumbrating, he observed that "fire is your friend and also a monster hence we have to look at the pros and cons. We must do our best to keep the fire under check to avoid disaster especially as it affects the economy.
As one of the preventive measures to avoid fire in our dwelling places, he called on citizens to clear surrounding bushes around their homes as it could serve as a purveyor for spreading fire into homes especially during the dry season.
"Family Members should be taught fire safety and drilled on evacuation procedure and how to operate fire extinguishers. In addition, he advised people to desist from approaching a generating set with an open flame."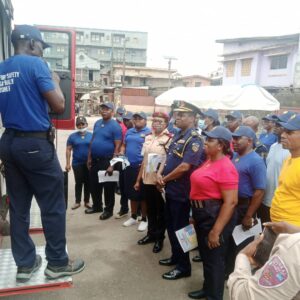 On her part, the Unit Commander, Federal Road Safety Commission (FRSC), Lagos Island, Esther Uzoma who gave a keynote address during the Mega Rally said FRSC has a well-established collaboration with fire service considering that they are all in the business of saving lives.
"We work together to ensure that no life is lost carelessly. Besides, we educate, caution and advise people not to travel at night especially during "Ember months" and admonish drivers to reduce their speed. Also, we ensure that every vehicle has a fire extinguisher in case of any fire mishap.
While displaying their equipment to the participants and at the same time, explaining some of their challenges, the Emergency Team took time to carry out a drill on resuscitation and evacuation of victims from accidents scene before using an ambulance to convey such victims to the hospital.
However, the spokesperson Federal Fire Service, Zone F, Supo Nwabueze John said Mega Rally is part of the service annual event which is carried out regularly to sensitize Nigerians on the need not to be careless with fire as the danger it poses could be enormous if misused.
Present during the rally included the Commandant, Fire Service Training, ACG Olajuni Olusegun, officers from the Federal Road Safety Corps and Federal Fire Service.