9 BRIGADE PARADES FIVE FAKE SOLDIERS, AS ARMY WARNS AGAINST USE OF STICKERS, INSIGNIAS
By Okosun Dennis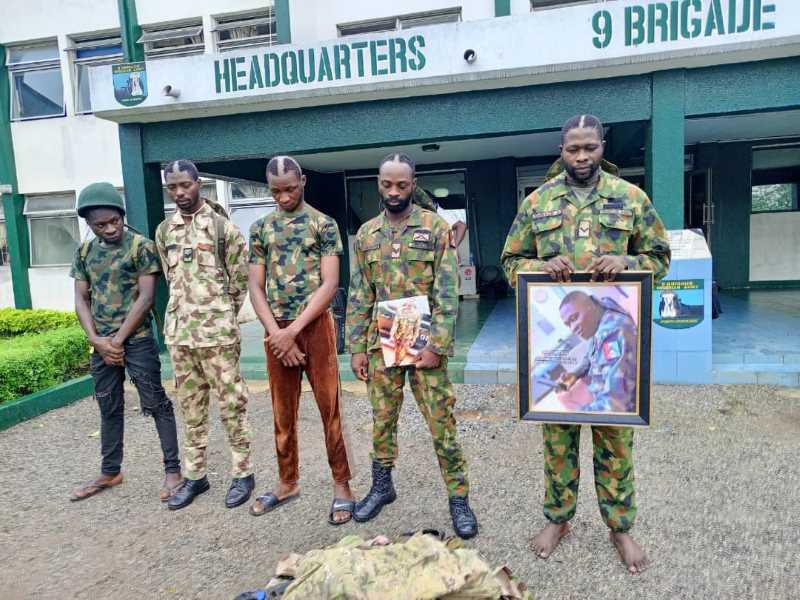 Five impostors were on Friday paraded by the Commander, 9 Brigade, Ikeja Cantonment, Brig Gen Adegoke Adetuyi for claiming to be soldiers of the Nigerian Army.
The impostors were arrested by troops of the brigade at different parts of the state under their Area of Responsibility for various infractions; being in possession of fake army identity cards, engaging in illegal duties as fake soldiers, extortion, and other violations contrary to military laws, ethics and standards.
The Commander who was represented by the Assistant Director, Army Public Relations, Major Kolawole Augustine Bello gave the names of the suspects as Mr. Johnson Ayemoba, who was arrested at Ojodu Berger; Mr. Salami Olamilekan, who was arrested at Excellent Hotel Ogba; Mr. Muhammed Bilyaminu, nabbed at lyana Ipaja axis; Mr. Abijo Taofeek, arrested at Ikorodu and Mr. Adewale Quadri, who was apprehended at Ikeja.
In his brief, Brig Gen Adetuyi explained that the parade was to showcase the efforts of the Nigerian Army to protect lives and properties and wipe out criminal activities within the Lagos metropolis.
"We handed over the five impostors to the Nigeria Police Force for further investigation into the activities of these hoodlums who presented themselves to unsuspecting members of the public as soldiers of the Nigerian Army thereby causing havoc, stealing by tricks, and sometimes killing their victims using the Army uniforms and accoutrements.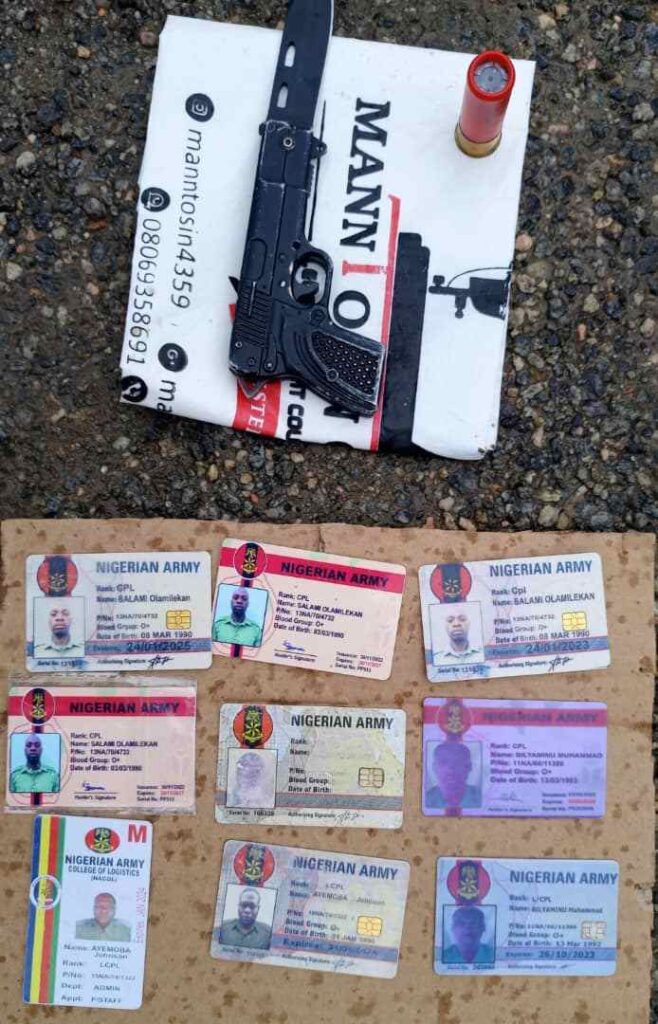 "Their actions and many others who are still at large have greatly affected the image and reputation of the Nigerian Army amongst the law-abiding citizens. It is expected that further investigation by the police and their prosecution would send the desired message to other criminals who are contemplating how to carry out impersonatory acts," he averred.
Speaking with our correspondent, the 28-year-old impostor, who hails from Auchi in Edo state, Johnson Ajemoba, explained that one Sergeant Tiger gave him the uniform but couldn't explain the rationale behind such issuance.
However, it was gathered that Johnson had been using the uniform to carry out illicit, illegal duties while pretending to be a serving soldier of the Nigerian Army with an Identity card bearing the Nigerian Army College of Logistics.
Spotting his camouflage uniform with the rank of a Lance Corporal with Infantry accoutrements, was gathered that when his house was searched, a framed portrait in army camouflage purportedly taken during his birthday, was recovered with another army uniform.
Also confessing his involvement but with remorse was the Osun state-born 26-year-old Adewale Quadri, who claimed to be a Commissionaire before his arrest at Mowe axis of Ogun state.
However, Mohammed Bilyaminu from Gusau, 22, apologized and regretted wearing the uniform for impersonation. He explained that he was actively involved in escorting vehicles at a fee ranging from between N5,000 to N10,000 per trip before he was apprehended.
With a fake army identity card found on him, he explained that he processed the ID card in Kano State at a Cybercafe but begged for forgiveness. He admitted making a mistake and vowed to change a new leaf.
On his part, Mr Salami Olamilekan, 22 years old from Ondo State, with his uncouth unrepentant posture, reluctantly explained how he got his uniform from one Sergeant Tiger, whom he couldn't give a clue of his whereabouts.
With a Jake knife that looks like a pistol, an unexpended red cartridge, a fake military identity card, leave pass with Army Number: 13NA/70/4732, Corporal Salami Olamilekun, with the unit as 243 Battalion, Ibereko Barracks, Badagry, had several pairs of fatigue uniform found in his house during a search during investigation.
In addition, he posed with an AK 47 rifle with OP MESA in the background. When asked how he got those things, he explained he resorted to the instrumentality of an App to superimpose them with a view to deceiving people that he was a combatant soldier.
However, Brig Gen Adetuyi noted while warning other collaborators and impostors that the Nigerian Army within the 9 Brigade Area of Responsibility, would leave no stone unturned in its unrelentless efforts to clean impostors from the streets in Lagos and Ogun states respectively.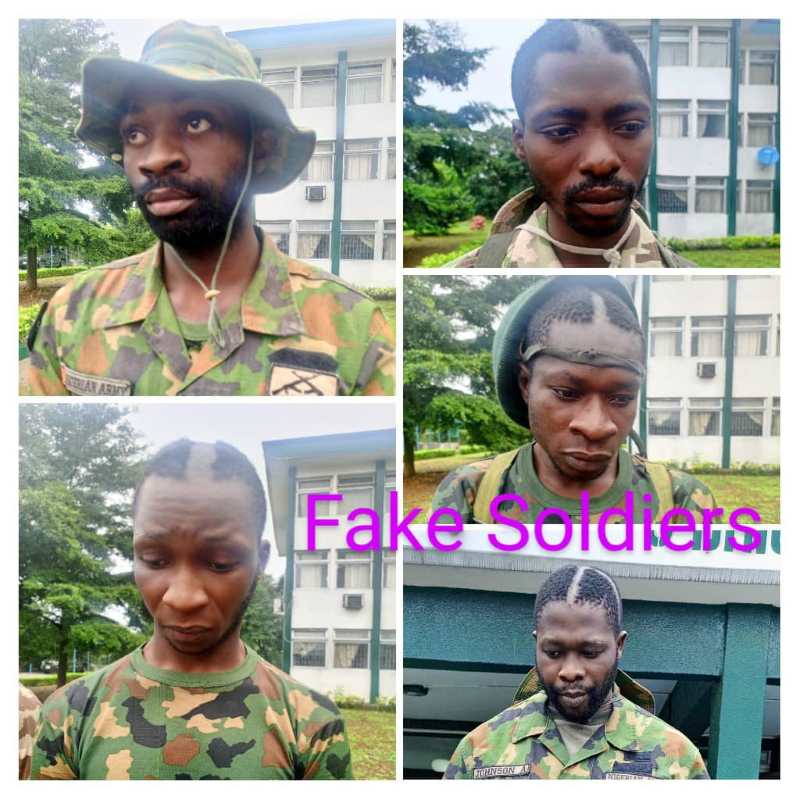 Adding that the Headquarters would continue to uphold the Nigerian Army Code of Conduct, ethics, core values, and soldiers' creed, reiterated that 9 Brigade will never encourage or tolerate the engagement of troops in any act that would hurt law-abiding citizens they are meant to protect.
He warned people engaging the services of personnel in military uniforms to settle disputes or provide security for them at functions to desist from it, as the Brigade will not be held liable for any untoward outcome of such engagement.
"We request Lagosians to report any suspicious act by unauthorized men in military uniforms to the appropriate authority in order not to fall victim to their dastardly acts.
"Additionally, the use of Army stickers, placement of camouflage jungle hats on dashboards of vehicles and other military insignias/accoutrements on private vehicles, as well as wearing of military uniforms in the name of fashion are illegal and anyone caught engaging in this violation will be liable to be prosecuted as impostors," Brig Gen Adegoke Adetuyi warned.
It was gathered that all five impostors would be handed over to the Lagos State Police Command for further investigation and prosecution.