…urges host community to volunteer information to tackle criminalities
By Okosun Dennis
As part of the events marking the flagging off of Exercise STILL WATER, Nigerian Army on Monday gave free medical outreach to over 200 Indigenes of Igboye Community at Ilara-Epe, Lagos State.
The General Officer Commanding GOC 81 Division, Maj Gen Lawrence Fejokwu, who was represented at the ceremony by the 81 Division Garrison Commander, Brig Gen NMS Nagidada called on the host community to avail the army voluntary information that would assist in dealing with the nuisance value of hoodlums and miscreants that have infested the society like a behemoth.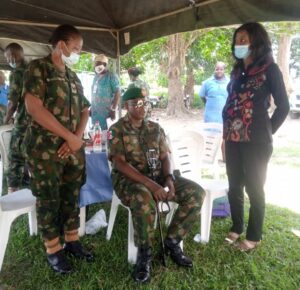 The outreach took place at the St. Paul's Primary School, Igboye, as both the elderly and school children were treated for Malaria, Typhoid fever, Eyes, Skin infections, and other ailments, and drugs and eyes glasses dispensed to them.
Commending the Alara of Ilara land, Oba (Dr) Olufolarin Olukayode Ogunsanwo for providing enabling environment for the exercise, Brig-Gen Nagidada noted the exercise was an annual routine carried out during "Ember" months to check increased activities of criminal elements.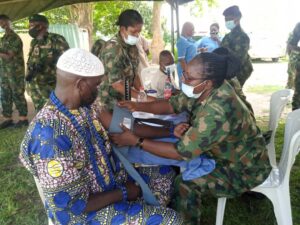 In his words, "Basically, during this period, increased criminal activities are always associated with this period for certain reasons. In view of that, the Nigerian Army authority wishes to conduct this Exercise STILL WATER in order to sharpen the skills of our personnel to be able to respond to any emergency that might occur.
"This exercise we are flagging off today is going to dovetail into real-time operation in order to deal with hoodlums and miscreants that are disturbing the populace.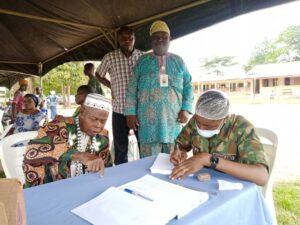 "Additionally, to appreciate host communities where we operate, we also incorporated free medical outreach to the law-abiding citizens to assist in diagnosing some of their ailments they are groping with.
"However, I will also solicit the cooperation of the populace in fielding us with information concerning anything that is against the law so that we would be able to carry out the task and for the community to be at peace during and after the exercise," Brig-Gen Nagidada reiterated.
Earlier in his opening remarks, the Alara of Ilara, Epe Division, Oba (Dr) Olufolarin Olukayode Ogunsanwo appreciated the force for bringing such free medical services to his domain.
"I am very grateful to be part of this Exercise STILL WATER designed to checkmate the activities of miscreants and other organised criminal elements. We have been having some security challenges like kidnapping, cultism, rape, armed robbery here.
"With this kind of exercise, we are confident that they would be routed. However, this is a trying period for us as a country particularly the Nigerian Army and other security agencies. We are grateful for your achievements and we hope that very soon, all these security problems will be a thing of the past.
"Medical assistance of this nature is part of deepening relationship between the army and the host Community. We would do everything possible to ensure the success of the exercise which would go a long way to checking these security issues within our area."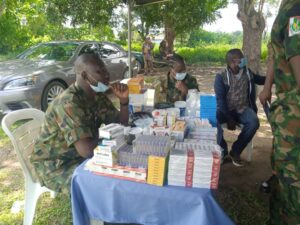 Reacting to the quality and excellent service delivery from the medical team, one of the residents, Chief Otunowo Adegbero, who spoke with our correspondent, expressed gratitude to the Nigerian Army for its generosity towards Ilara land.
The Medical Director, 65 Battalion, Nigerian Army Medical Reception Station (MRS), Bonny Cantonment, Lt Precious Ukpedor, said some of those treated were hypertensive. We also treated others for skin infections, Eyes defects, Malaria, and tyhpoid fever and also gave eyes glasses and drugs," she explained.
Present were the Commanding Officer, 65 Battalion, Bonny Cantonment, Lt Col Amayuoyi, and some titled chiefs from Ilara kingdom.
A similar exercise took place at the Digital Brigade Institution (Old Nitel Training School) No 1, Nitel Road, Oshodi Road, Lagos. It is jointly conducted with the Nigerian Navy, Nigerian Airforce, and other security agencies in 2, 6, 81, and 82 Divisions Areas of Responsibilities (AOR) in the South West, South South, and South East regions respectively.