…seeks for public supports to deal with insecurity, unrest
By Okosun Dennis
Lt. Gen. Tukur Buratai has said that Nigerian Army would continue to build the capacity of personnel to deal with emerging insecurity and unrest through training and retraining, both at home and abroad.
Declaring opened a three-day Media Workshop organised by the School of Public Relations and Information (NASPRI) in Lagos on Monday, at the Command Officers' Mess, Marina, the Chief of Army Staff (COAS) who was represented by the General Officer Commanding GOC 81 Division Nigerian Army, Maj. Gen. Godwin Umelo, explained that the workshop has been designed in consonance with Nigerian Army training objectives to mitigate contemporary security challenges.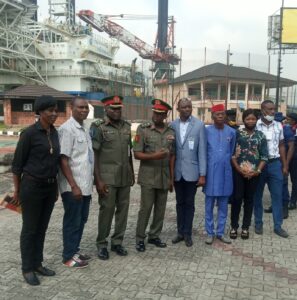 Reiterating that this year's workshop is geared towards building capacity and enhancing collaboration between security agencies and information managers of the force to deal with insecurities and civil unrest, admonished participants to take advantage of the knowledge that would be gained to ensure that all forms of criminal activities that poses threat to national security and cohesion are stamped out.
Buratai added, "This can be achieved by galvanising a superior narrative to that of the adversaries and enemies of Nigeria."
"It is through effective collaboration and partnership that the idea of information superiority can be achieved in furtherance of our national objectives. We would continue to explore new ways and means to alleviate these threats across the country."
In his welcome remarks, the Commandant of Nigerian Army School of Public Relations and Information (NASPRI), Col. Mustapha Anka emphasized that national security is a collective responsibility of every citizen in order to ensure secured, peaceful atmosphere for economic growth and development.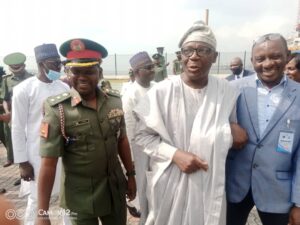 Col. Anka observed that this year's theme: "Supporting the Military: Panacea for Improved National Security," was carefully selected as the country was facing a host of complex security challenges ranging from violent extremism, insurgency to piracy, kidnapping for ransom, terrorism, agitations, armed robbery, cultism, attack on oil infrastructures, drug trafficking, organized crimes and even most recently ENDSARS protests, lootings and breaking of law and order amongst others.
He noted that "Civil unrest has poised serious problems to public safety and order for the Nigerian authorities in recent years, often, leading to situations that threaten peace and security of the country and its continued existence as a sovereign state.
Therefore, he appealed to media owners, journalists to be mindful of information they send out or publish especially fake news that could cause mayhem and civil unrest in the country.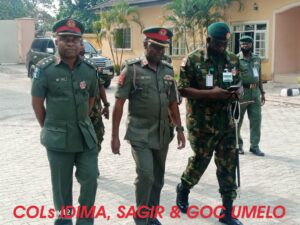 "In a situation whereby single fake news can dampen the morale of troops in the battle field with the attendant negative consequences to the nation should be discouraged."
Therefore, there is the need for us, individually and collectively to assist security agencies with vital information, moral support, prayers and most importantly, for the government to adequately fund the Nigerian military for optimal result.
Adding that NASPRI has done fantastically very well since its inception in April 2010, Col. Anka disclosed that the school has trained a total of 3,362 students–which include 2,640 officers and soldiers of the Nigerian Army, 204 officers and ratings of the Nigerian Navy and 130 officers and airmen of the Nigerian Air force.
On his part, the Director, Army Public Relations, Brig. Gen. Musa Sagir called for public support for the Nigerian Army and Armed Forces considering the plethora of security challenges confronting the nation.
"The daunting challenges the Nigerian Armed Forces are faced with require public support and understanding especially in the era of Social Media and the increasing threat of fake news in Nigeria, has made the Nigerian Army get more interested in the use of social media in telling its stories and monitors what is going on in the Cyberspace for both institutional and our overall national interests."
While justifying army's involvement at quelling the #EndSARS protest which was hijacked by hoodlums, the army authority again, re-emphasized the reason for getting involved to secure the country against some enemies of the state who bent on ensuring that lives and properties were destroyed.
Supporting the roles it played with a video slide, Brig. Gen. Ahmed Taiwo, the Commander, 81 Division Intelligence Brigade, who was elevated to a Major General last week, explained that if not for the involvement of the military to stop the carnage by hoodlums, Lagos would have been gone by now.
Participants at the workshop included Public Relations Officers from the Armed Forces, Police, Nigerian Security and Civil Defence Corps, Road Safety, Fire Brigade, other Paramilitary organizations, and Defence Correspondents.