A billionaire French-Israeli diamond magnate, Beny Steinmetz, has appeared in court in Switzerland to face trial over alleged corruption linked to a major mining deal in Guinea.
He has always denied his company, BSGR, paid multi-million dollar bribes to obtain iron ore mining exploration permits in southern Guinea in 2008.
He travelled to Geneva from Israel for the two-week trial.
If convicted he could face up to 10 years in prison.
Steinmetz, 64, was previously sentenced in absentia to five years in prison by a court in Romania for money laundering.
Swiss prosecutors say Steinmetz paid about $10m (£7.4m) in bribes, in part through Swiss bank accounts, to gain the rights to Guinea's iron ore deposits in the Simandou mountains.
The area is believed to contain the world's largest untapped iron ore deposits.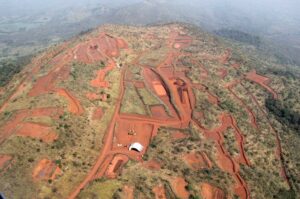 His lawyer Marc Bonnant says "we will plead his innocence".
According to the prosecutors, the bribes to Guinean public officials were paid with the help of Mamadie Toure, the widow of Guinea's former president Lansana Conte. They also allege that Steinmetz forged documents linked to the deal.
The BBC's Imogen Foulkes in Geneva says Ms Toure has been described as the star witness for the prosecution, but her presence in court is unlikely – she now lives in the United States. She has not yet commented on this trial.
Mr Bonnant told Reuters news agency last month that Steinmetz had "never paid a cent to Mme Mamadie Toure" and said she was not married to Lansana Conte. "She is not a public agent and therefore cannot be corrupted," he said.
Despite its vast natural resources, Guinea remains one of the poorest countries in Africa, and has gained little from the Simandou iron ore riches.
'Jackpot' deal
Steinmetz secured the rights in exchange for an investment of around $160m, but he then sold half of them on to Brazilian multinational mining company, Vale, 18 months later for $2.5bn, netting a massive profit.
At the time it was referred to as a "jackpot" deal in the financial press. But it also raised questions about why the initial rights were granted so cheaply.
Mo Ibrahim, the Sudanese telecom billionaire and anti-corruption campaigner, asked at the time: "Are the Guineans who did that deal idiots, or criminals, or both?"
Steinmetz has always insisted he did nothing wrong. In a rare interview in 2012 he told the Financial Times that "people don't like success" and it was normal to pursue "opportunities in an aggressive way".
Guinea's government stripped BSGR of its mining rights in 2014, citing evidence of corruption, which the company denied.
Source: BBC NEWS