By Okosun Dennis
The Chief of Army Staff (COAS), Lt Gen Faruk Yahaya has called on Chief Clerks in the Nigerian Army to uphold the Official Secret Act which provides the guidelines and regulated their professional conduct.
Addressing over 400 participants drawn from Units, Formations, Corps Headquarters and Training Institutions across the nation during the  NA Chief Clerks' Convention 2021 hosted by the 81 Division to enhance professionalism and responsiveness of the NA Chief Clerks for optimal performance, the COAS enjoins them to key into his vision to have "A professional Nigerian Army (NA) to accomplish assigned missions within a joint environment in Defence of Nigerian".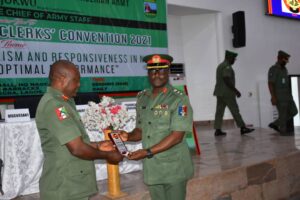 Presenting COAS Keynote address during the opening ceremony, the Commandant, Nigerian Army College of Logistics, Major General Martins Enendu reiterated the importance of the Convention.
According to him, "The 2021 Convention was quite auspicious in view of the important role played by Chief Clerks in ensuring that the staff training and operational branches of the NA function optimally.
He explained that "It is wise to state that if Chief Ckerks carried out their respective duties effectively, there is no doubt that they would contribute immensely towards the actualization of my vision for the Nigerian Army; adding that as trained Clerks, they must uphold the Official Secret Act which provides the guidelines and regulated their professional conduct.
In one of the lectures on "Capacity Development of Clerical Staff: Challenges and ways forward," succinctly delivered by Colonel Onyekachi Eneowo, he elucidated and educated the participants on the roles of NA Clerical Staff, challenges to capacity development especially in the face of current and emerging security challenges facing Nigeria and ways forward.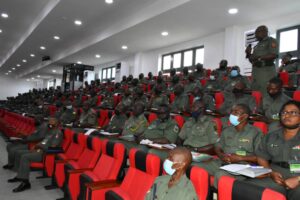 Also, another lecture delivered by Brigadier General CU Onwule entitled "Exploring information communication technology for optimal performance of the NA Chief Clerks was also resourcefully presented with practical examples.
The Guest lecturer also used the occasion to draw the attention of the participants to global best practices that are in line with military convention. These lectures are among the other six lectures slated for the convention.
So far, the lectures elicited observations, contributions and comments from senior officers and the participants.
Earlier in his welcome address, the General Officer Commanding, 81 Division, Major General Lawrence Fejokwu urged the participants to make good use of the opportunity and learn all the rudiments of modern day clerical work.
He also disclosed that knowledge acquire would enable them to function optimally in various capacities in their career.
The Theme for the Convention was "Enhancing Professionalism and Responsiveness in NA Chief Clerks for Optimal Performance."