BY IKECHI ENWEREJI
Everybody has suddenly woken up from his or her slumber and state of ignorance to start attacking the Governor of Abia State, Dr. Okezie Ikpeazu, of one wrong or the other. I want to ask, where were these record keepers and scoreboard markers all these years that Abia State was abandoned in the wilderness of underdevelopment?
For the past 16 years before Dr. Okezie assumed office, nothing relatively good was seen or found in Abia State, particularly Aba, which is the commercial nerve centre of the state. The two past governors vehemently refused to work on the roads of the city but their major revenue was collected from that same abandoned city. Nobody said anything.
Was Abia State created during Dr. Ikpeazu's regime? Was Aba, as a city, created during Ikpeazu's tenure? The answer is "NO."
All the major failed roads that every Tom, Dick, and Harry is now pointing at, in Aba and other Abia roads, did not get worse during Ikpeazu's time. They existed before he assumed office. The roads leading to my village, Umuola Okpulor (i.e Ehere Road, Umuola Road, and other surrounding roads) got so bad that even plantain trees began to grow in the middle of the road. Today, the story has changed courtesy of Ikpeazu's administration. I can drive through to my town unhindered because the roads have been reconstructed and so many others he has done.
The Port Harcourt Road, Ohanku Road and the rest of the roads that Ikpeazu has not worked have suddenly become his making if the mischievousness of his traducers is anything to go by. It has become a hip of sin that only him alone will bear, if one may ask. Have we forgotten that government, as a matter of norm,  should be progressive? If the governors who served before Okezie had done even a little in Aba, with what Ikpeazu is doing at the moment, the state would have been far better off.
Please, do not misunderstand me.  I am not defending Governor Ikpeazu, nor am I saying that people should not err their opinions. If Abia State becomes a Dubai of Nigeria today, all of us will enjoy it. Yes, it is good to criticize a government in power but when doing so, we should be armed with the relevant information that would not rubbish our argument. The criticisms must be constructive.
Has Governor Ikpeazu done fantastically well? I will say, NO. Has he failed woefully as he's being painted at the moment? I will equally say, NO. But one thing is sacrosanct; Abia state has moved forward, it is no longer where it used to be; in terms of development, economic activities, and the rest.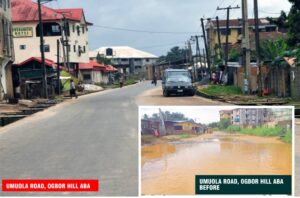 Let's try and appreciate the modest efforts that the governor has made in bringing dividends of democracy to the state and also push him to do more because Abia State is seriously lagging behind in many things.
The government's critics and opposition generally are capitalizing on areas undone to attack Governor Ikpeazu, but you know what; they are economical with the truth. These same "good people" have been in government before and some are still there, yet they haven't done anything; all they are doing now is to use their money to sponsor propaganda and fake news against the government of the state because the 2023 election is fast approaching.
Please, let's be guided, and let's talk wisely and write intelligently. Let's not be biased in our opinions or based our findings on the large sums of money thrown to us by the opposition to damage and bad-mouth our governor.
God bless us all and bless our state.
I am open to a debate on this matter (08137621381).