DISTURBING TRENDS: HOW NNS BEECROFT PATROL TEAM APPREHENDED FOUR DUBAI-BOUND STOWAWAYS
The desperation by four Nigerians to Illegally travel out of the country by sneaking into a container vessel, TEME EXPRESS en route to Dubai has been frustrated as the stowaways have been arrested by the Navy.
Announcing the arrest in Lagos on Wednesday, the Commander, NNS BEECROFT, Commodore Kolawole Olumide Oguntuga, said that the Nigerian Navy Ship BEECROFT patrol team while on routine patrol arrested them on Monday, November 14, 2023.
Disclosing the identity of the stowaways, the Base Information Officer, NNS Beecroft, Apapa, Sub-Lieutenant Happiness Collins gave their names in a statement as Ebi Agrive, 22, from Bayelsa state; Lucky Amusu, 23, from Lagos state; Goodness Edu, 28, from Akwa Ibom and Micheal Daniel, 18, from Ondo state.
Commodore Oguntuga further explained that the tactical teams were dispatched to the vessel at Lagos Anchorage, the sequel to receiving information from the Maritime Domain Awareness Facility, the Falcon Eye Alignment.  
It was learnt that on arrival, the teams noticed movements inside the rudder compartment, hence the patrol teams boarded the ship and extracted the four stowaways.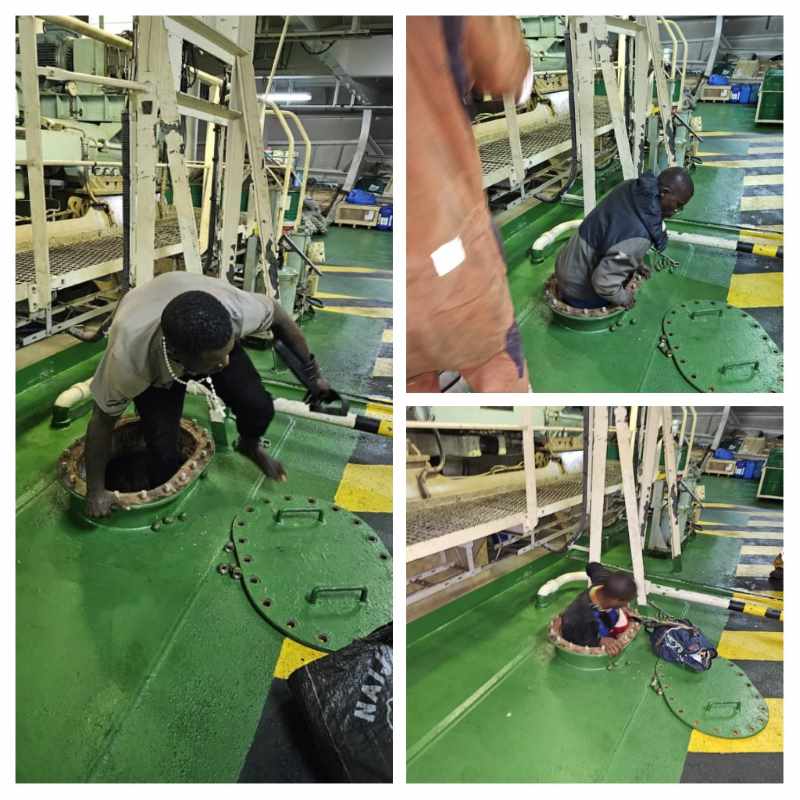 Found on them were a bag filled with snacks and another polybag containing a sachet of water.
According to laws, they have been handed over to the Nigeria Immigration Service (NIS) in accordance with the established protocols.
The Commander further stated that apart from the stowaways putting themselves in life-threatening situations during the long voyage at sea especially as they remain in a confined space for extended duration, the stowaways also present myriad security threats to the crew with dire consequences on the image of the nation.
This arrest and handover therefore is another testament to the Nigerian Navy's unwavering commitment and resolve under the Leadership of Vice Admiral Emmanuel Ikechukwu Ogalla, Chief of the Naval Staff, towards holistic maritime security for the economic prosperity of Nigeria.