Fake News: A Threat to National Security – Funke Egbemode
By Okosun Dennis
Purveyors of fake news have been admonished to stop peddling such news as it is capable of fueling political, ethnic violence, social unrest and escalation of unimaginable conflagration in the country.
The Commissioner for Information and Strategy, Osun State, Mrs Funke Egbemode said on Wednesday while delivering a lecture titled: The Role of the Media in Countering Fake News for Improved National Security at the 2020 Media workshop organised by the Nigerian Army School of Public Relations and Information (NASPRI), at the Command Officer's Mess, Marina, Lagos.
She said that the eruption of fake news in the media space was unfortunate development adding that such irresponsible journalism has caused all manners and shapes of violence in the society not to talk of the negative impart it has had on people's emotional state.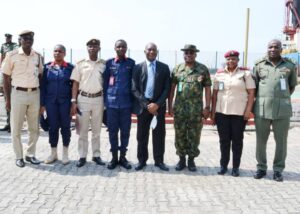 "Fake news is a terminology that is new; it is not a concept that is new. We have always had rumours and we always had gossip. It is either it is news or fake."
While blaming the media for not living up to its functions, observed that traditional media have failed to do its job hence sellers of fake news cash on such loopholes.
Egbemode pointed out that what manifested in #EndSARS protest, was a classic case of where the media failed to carry out its functions.
"The news space is invaded by different news from credible, incredible and outright false sources hence some news purveyors invade the space with false or misleading information often referred to as fake news."
"Those who peddle fake news are traders. They have something to sell and know where to sell it. They cash on the digitalisation of the media world to penetrate gullible readers. They fabricate falsehood without verifiable facts cum sources," Egbemode explained.
While given some tips on how to identify fake from credible news, she advised readers to find out "if such story was reported elsewhere; if supporting sources are reliable? And when you have stories that have no voice, no quote, double check it."
Incidentally, she reiterated, "fake news doesn't have correct dates; credible author as well as normal website address."
Egbemode, however, enjoins media practitioners to do thorough fast-checking of their stories before publishing. As a precursor to minimizing the effects of fake news, she recommended the setting up of "Fast Check Desk" in every media organization that intends to regulate the smuggling of fake news into their publications.
The moderator of the paper, Flight Lieutenant Abigail Ologun, (DOPRI), Nigerian Airforce Logistics Command, Ikeja commended the guest lecturer for the well-researched paper considering the negative impart and how fake news have twisted people mindset in recent times.
In his contribution, the former Director, Defence Information (DDI), Maj. Gen. Christopher Olukolade (rtd.) said "yellow journalism is the mother of fake news."
"The trouble of dealing with fake news is the problem of fake personality who claim to be what they are not. Unfortunately, the digitalisation of media platforms has given impetus to fake news."
In his closing remarks, the General Officer Commanding (GOC) 81 Division, Maj. Gen. Godwin Umelo expressed optimism that the workshop has impacted positively on the participants as well as assisted them towards understanding National Security and our common goal.
"Nigerian Army remains highly committed to our constitutional roles, sustenance of democracy and support civil authority to maintain law and order."
Represented by the Chief of Staff, 81 Division, Brig. Gen. Nsikan Edet, added that his hope is that the workshop would change the narratives.
Highpoint of the three days media workshop was the issuing of certificates to participants drawn from the Armed Forces, Police, Federal Road Safety Commission, Federal Fire Service, Lagos State Neighbourhood Watch and National Security and Civil Defence Corps, Nigerian Immigration Service, Defence Correspondents and Online Publishers.
https://any.peopleandpowermag.com/fake-news-a-threat-to-national-security-funke-egbemode/