… AS OVER 2000 JOINED PDP
By Okosun Dennis
The Governors of Delta and Edo States, Dr. Ifeanyi Okowa and Mr. Godwin Obaseki of the People's Democratic Party (PDP) stormed Ikeja on Sunday as they received over 2000 defectors from the African Democratic Congress (ADC) to PDP.
This has sent jesters to the dominant All Progressive Congress (APC) that had gained sway in the state for several years.
Okowa, who is the party's Vice Presidential candidate of the Peoples Democratic Party (PDP), used the opportunity to call on all Nigerians to massively vote against the ruling All Progressives Congress (APC) that have brought ruination to the economy and a huge crack in security in the country.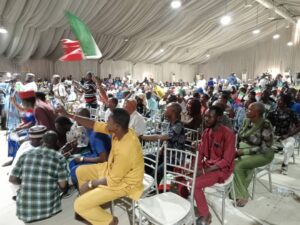 Okowa, reiterated that a vote for his party will emancipate the citizenry from the economic quagmire, insecurities, lingering poverty, and hardship Nigerians faced at the moment.
Over 2,000 people were received from the Lagos state chapter of the African Democratic Congress (ADC), after collapsing its structure into the PDP.
In addition, the ADC endorsed Atiku Abubakar and Lagos state gubernatorial candidate, Olajide Adediran aka Jandon, in the 2023 general polls.
Against every permutation that African Democratic Congress (ADC) members ruled out going into alliance with the ruling All progressive congress (APC) and other political parties in the country, Sunday's decision obliterates such assumptions and puts every doubting Thomas to rest.