FOUNDER, "HEARTS OF GOLD" ORPHANAGE URGES NAOWA MEMBERS TO PRAY FOR THEIR HUSBANDS
…AS THEY DONATE ITEMS TO THE HOME
By Okosun Dennis
Members of the Nigerian Army Officers' Wives Association (NAOWA), 81 Division chapter, have been told to pray fervently for their husbands considering the peculiar and precarious nature of their profession.
Giving the admonition, the Founder of the Hearts of Gold Children's Hospice, Mrs. Theresa Omolaja Adedoyin, explained that because they are always on the battlefield against insurgents and other criminals, their wives need to constantly pray for their successes against the enemies of the country.
She spoke when NAOWA 81 Division chapter made some donations to the orphanage at Onilegogoro, Surulere, Lagos on Wednesday.
The team was led by Mrs. Laraba Joyce Onyeuko, Acting Chairperson, who stood in for the Chairperson, NAOWA, 81 Division, Mrs. Aisha Musa.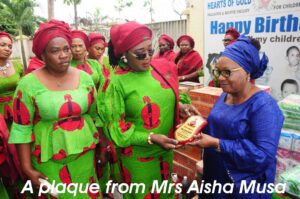 Mrs. Adedoyin thanked the Acting NAOWA chairperson for remembering them at the point of need adding that the items they donated to the children were immensely appreciated.
According to her, what the home needs most now is medical intervention, especially at the point of entering the children while they are here for their lives to be better.
On the staff of the home, she disclosed that since Covid-19 started in 2020, about 80% of the staffers have not moved out of the house for fear of infection stressing that "some have worked here for between 12-14 years or more and they are only exposed to a day off weekly.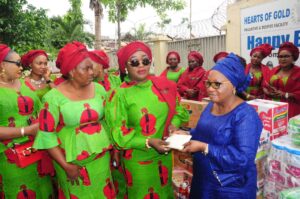 "The first thing is the emotional commitment of the staff who have their children that are okay and who come to work with my children here – children with disabilities – that people look at and take away their eyes."
While saluting the courage and steadfastness of the women who are married to military officers, and are often times exposed to dangers on the battlefield, she further explained that "It is not a child's play to defend the country and make it possible for some of us to sleep with our eyes closed. I usually ask: why would someone go and join the Army?
"It is a profession that is given high regard because of the nature of the job. I used to have nostalgic feelings about the military in my teenage years.
"I urge you to pray for your husbands even when you have a quarrel with them. Have time for them and ensure your care for and prepare their food. Embrace them when they come back from work.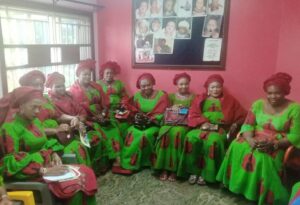 "Importantly, always pray for your home and children. Be patient and be positive. Don't let anger rob you of the things you have laboured for," she reiterated.
In an interview with our correspondent, Mrs. Laraba Joyce Onyeuko noted that NAOWA as a charitable organization, made the donation in line with the Nigerian Army Day Celebration (NADCEL) 2022.
"NAOWA has always, and would continue to leverage on our vision and objectives to make donations to help the needy and less privileged in the society."
She expressed joy that outside their jurisdiction – barracks – "we are making donations to other places just as we are doing now at the Hearts of Gold Children's Hospice."
On the strength to forge ahead by doing so much to assist humanity, she emphasized that "the strength has always been there and as mothers, we are special people who are wired to be able to absolve any kind of thing that comes our way.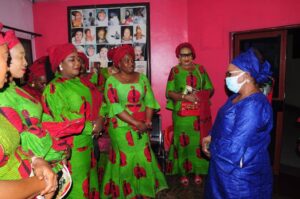 "As women, we always support our husbands both at home and in the frontline as we take care of the home while they are away. This gives the needed psychological boost to go against the insurgents and other challenges that come their way.
"Nigerian Army is passionate about the welfare of its personnel. They ensure the integrity and unity of Nigeria are guaranteed hence the Chief of Staff, Lt Gen Faruk Yahaya takes the welfare of personnel of paramount importance and has been doing everything possible to make them comfortable," Mrs. Onyeuko explained.
The Acting chairperson was accompanied by the wives of senior officers of the 81 Division. Items donated included mattresses, vegetable oil, bags of rice, cartons of indomie, assorted detergents, beverages, snacks, and toiletries among other numerous items.
Hearts of Gold Children's Hospice has 68 children who are large with one form of disability or another. It is the first and only children's hospice and respite care facility in Nigeria.
FOUNDER, "HEARTS OF GOLD" ORPHANAGE URGES NAOWA MEMBERS TO PRAY FOR THEIR HUSBANDS