Following recent redeployments and postings of senior officers across Nigerian Army Formations, Major General Mayirenso Lander David Saraso has assumed Office as the new Commander Sector 2 Joint Task Force (JTF) North East Operation HADIN KAI.
He took over command on Friday, January 27, 2023, at the Sector Headquarters in Damaturu the Yobe State after he was conducted round various troops' locations within 27 and 29 Task Force Brigades by the outgoing Sector Commander.
Speaking during the Handing and Taking over ceremony at the Sector Conference Room, the outgone Commander, Major General Koko Isoni thanked officers and men of the Sector for their support, loyalty and commitment throughout his tour of duty.
He called on officers and men to extend the same support he got from them to his successor to enable him to carry out his assigned task of securing the Sector 2 Area of Operational Responsibilities without hitches.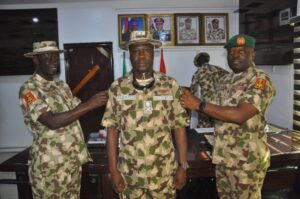 He noted that the change in baton came at a very critical time when the nation is inching towards the conduct of the 2023 General Elections and therefore urged troops and units under command to remain dedicated to their duties and avoid all forms of crimes and misconduct.
He further expressed gratitude to the Chief of Army Staff (COAS), Lt Gen Faruk Yahaya for giving him another opportunity to further continue in the service of his motherland by appointing and redeploying him to go as the Deputy Theatre Commander JTF NE OPHK.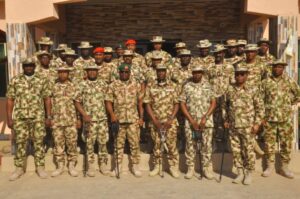 On his part, the new Commander, Maj Gen Lander Saraso appreciated the efforts of the outgone Commander in the area of operations and infrastructural developments and promised to continue with his good legacies.
However, he assured officers and men of the Sector of his zeal to build upon the successes recorded by his predecessor.
Highlights of the ceremony were the signing of the Handing and Taking over notes, decoration of the Commander with the Sector 2 Insignia, and presentation of the Sector 2 Flag of Authority to the new Commander.