GREAT ACHIEVERS WORLD MAGAZINE'S HANGOUT 2022: A HUGE SUCCESS
It was glitz and glamour as the first edition of Great Achievers World Magazine's WhatsApp Hangout was done and dusted.
The date was October 29, 2022, at Q10 Bar, Magodo, Shangisha, Lagos.
The magazine's group had planned a hangout for about two months, between September and October, when they needed to meet each other one-on-one, after four years of being together as a family, posting, commenting, disagreeing and agreeing.
Initially, when the need for a get-together arose, over 70 percent of the platform participants signified interest to be part of it.
Of course, with the setting up of a planning committee, headed by Engr. Ebho Abure, the modality of the event was streamlined. The number of interested participants was reduced to 20 percent.
The day eventually came. As members started arriving at the venue, they hadn't known each other, since the admin of the group, Inemesit Ebu, was the only person they all knew physically. That was part of the fun.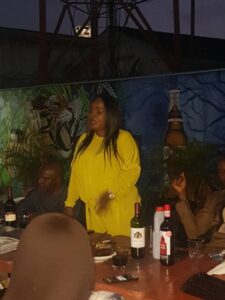 My phone started ringing repeatedly as early arrivers to the venue could not meet with others who were around. They sat near each other but didn't know themselves. When I asked them to meet with Engr. Ebho, they explained that they didn't know him. Ebho was at the venue on time. He is an American-trained man who respects time. As I eventually arrived with another female participant, Ekanem,  they all sat together but didn't really know each other.
The Administrator of the WhatsApp group and Publisher of Great Achievers World magazine, Inemesit Ebu, officially welcomed members to the event before handing over the affairs of the day to the Master of Ceremony (MC), Mr. David Bassey.
As the MC introduced each member, you could hear, "so this is Ebho, this is Mike Effiong, ah! so you're Amb. Bassey, See David Bassey, etc.
Then came Barr. Mike Umonnan. As he was introduced, someone said "this is the man that said Poverty must apologize or he leaves the platform and he later exited because the man was not ready to apologize for insulting his Father in the Lord. Barr. Umonnan was welcomed with handshakes and hugs.
As Mr. Isaac Oghogho walked in, the atmosphere changed for all present. Hugs, handshakes and waving of hands at him were expressed. It was the very first time we all met him except for Mr. David Bassey who introduced him to the platform.
Of course, the 'not too commenters' on the platform came in like Mrs. Ekanem Nwosu and Engr. Chris Udeme with others happy to know them as "monitoring readers" usually the first to read without making comments.
It was fun, fun, fun as members enjoyed the cool music in the background.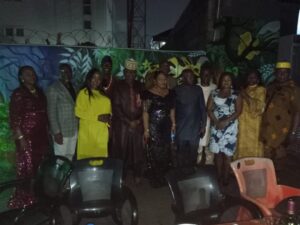 It was interesting sharing food with one another. I can't remember if anyone ate alone as foods were unconsciously shared by participants from one plate to another. It was a family gathering indeed. Drinks were shared from the same bottles, meat, and fish were eaten together from the same plates. Note, we all had our separate plates of food and drinks but the joy of togetherness made us reach out to each other's plates for a taste or two.
Throughout the duration of the event, one name kept coming up. It was "Poverty Fighters'Squad". We were all looking forward to having him in our midst to at least know who he was. Unfortunately, he was removed on grounds of too many abuses on the platform.
A lot was benefited by participants at the event as networking was seriously done by members. Contacts were exchanged after members' profiles were brought to the limelight. Quite interesting, I must say.
I must applaud the gentlemen who came with their wives. They added colour to the event. Thank you Mrs. Uwemediimo Umonnan and Mrs. Ama Bassey for accompanying your husbands to have fun.
In the end, the elated Publisher/Admin shared branded gifts with the participants to mark the day/4th anniversary of the Whatsapp group. She also appreciated the presence of Ms. Chinyere Ogidi, who left the group 3 years ago. She had fun too.
I must thank all who made this happen. They are Engr. Ebho Abure, who in addition to his support donated a carton of Red wine, Mr. Mike Effiong, Barr. Mike Umonnan, Mr. Isaac Oghogho, Mr. David Bassey, Mrs. Ekanem Nwosu, Amb. Bassey, Mr. Akinwole Agbose, Engr. Chris Udeme, Mrs Inyang Ubeng, Barr. Chuks Uzoka, Mr Odudu Arthur. Four of them couldn't make it because of unforeseen circumstances. Also, those who showed interest by pledging but couldn't fulfill their promises due to one thing or the other, I salute you all. I must use this medium to express that our member who promised to donate to us   Veleta wine and Rum stand at the event couldn't fulfill his promise because they had too many events at the weekend, so couldn't make it happen as planned.
I also want to use this medium to appreciate all members of the planning committee headed by Engr. Ebho Abure, for a job well done. God bless you all.
The Great Achievers World magazine's WhatsApp group is an arm of the main magazine. The hangout will be a yearly event. We hope the next event will be much better.
GREAT ACHIEVERS WORLD MAGAZINE'S HANGOUT 2022: A HUGE SUCCESS