HOW ARMY RECOVERS 1,671 PVC IN APAPA, AS 9 BRIGADE ARREST THREE SUSPECTS
By Okosun Dennis
Attempts by unidentified politicians to rig forthcoming gubernatorial and State Houses of Assembly elections next Saturday have been thwarted as troops of 9 Brigade, Nigerian Army, Ikeja Cantonment on Wednesday arrested three suspects in possession of 1,671 PVCs in Apapa, Lagos.
The soldiers, who responded to intelligence reports swooped on an apartment and recovered the voters' cards, ballot papers, cutlasses, and marijuana.
However, the prime suspect couldn't be arrested as he had escaped before the troops got to where he was hiding in a hotel.
Parading the suspects at the Ikeja Cantonment, the 9 Brigade Commander, Brigadier General Isangubong Akpaumontia disclosed that the arrest and recovery were made following a tip-off.
Meanwhile, findings revealed that most of the recovered PVCs bore the year 2022 as the registration number. Others had 2011, 2012, and 2021 as the registration years while the owners were discovered to be Lagos residents.
However, one of the suspects who spoke with our correspondent, simply identified as Habeeb denied knowledge of the PVC. Rather, he said he knew nothing about the cards but was only in the house to relax before the soldiers swooped on them.
"The room where they met us was where we are sleeping. Suddenly, the soldiers ordered us to come outside. We don't know anything about PVC. Our house is close to the hotel, so, we just went there to rest. This is our first time sleeping there," he explained.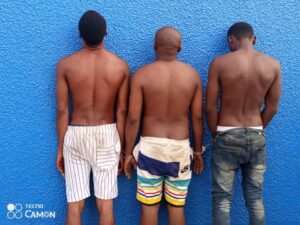 On what should happen to the suspects, Brig Gen Akpaumontia explained that they would be handed over to their immediate headquarters for necessary action.
"They were arrested with some drugs, daggers, charms, and over 1,000 PVCs. They were arrested at the Apapa general area, in a house where we traced them to. The owner of the house, who is the prime suspect, was traced to a hotel. But he escaped.
"Right now, we are going to hand them to our immediate headquarters for them to do the needful because things had to be done and this will discourage others that would want to take laws into their hand. They won't go scot-free."
Akpaumontia added, "I have seen the PVC; they claim it was their master that own the PVC. The PVC is from 2011, 2012, and 2022 most of them are from 2021 and all of them are from Lagos state," he further reiterated.
Unconfirmed reports, however, indicated that the discovery could have been orchestrated following the ongoing investigation to unravel the alleged arson on the Akere spare parts market on Wednesday morning leading to a huge conflagration that consumed millions of spare parts at the market.
HOW ARMY RECOVERS 1,671 PVC IN APAPA, AS 9 BRIGADE ARREST THREE SUSPECTS