…AS ANOTHER GIRL STABS BOYFRIEND TO DEATH OVER N3,000
By Okosun Dennis
A 15-year-old suspect, Odo Chiamaka on Monday gave a chilling account of how she was initiated with a biscuit by her friend and a classmate while in primary school in Anambra state, South East, Nigeria.
She explained that immediately she ate the biscuit, she saw herself at a demonic coven at night and since then, other members of the group have been demanding human blood from her which she has consistently turned down until they hypnotized her to kill the daughter of her mistress.
The teenager who was paraded before newsmen on Monday by the Commissioner of Police, CP Abiodun Alabi, who was represented by the Police Public Relations Officer, CSP Adekunle Ajisebutu at the Lagos State Police Command Headquarters, Ikeja, noted that the six months old boy was strangled by the teenager.
The mother of Obiora Osokolo (the victim), Jayden Osokolo, who wasn't around during the parade, had employed the girl on the 7th January and she committed the murder on February 6, 2022.
While narrating her side of the story to our correspondent, Chiamaka said she is a member of a nocturnal society called "Ogoloma" cult group based at Inagolo in Anambra state.
According to her confession, She said, "When we were in primary school in Anambra state, my friend, Ebere, gave me biscuit which I ate. In the night, I found myself in Ogoloma, a place I don't know much about and they welcomed me warmly.
"When I relocated to Lagos, they appeared spiritually and demanded human blood from me and I begged them that I don't want to shed blood but I could do other things I am asked to do. On Saturday, February 5, 2022 in the night, they appeared and demanded that I bring the baby kept under my care. I refused and they threatened to strangle me.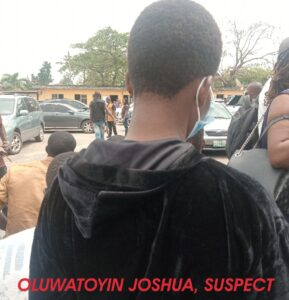 "After much entreaties, they gave me a basin and commanded me to call the name of the baby four times. The moment I called his name, Obiora Osokolo, four times, the basin turned to blood. That is all I knew. I didn't use anything or an object to kill the baby outside mentioning his name four times" the suspect narrated.
Asked how they meet at their coven, she explained being the lowest person in the ranks and don't have any say but added that they never gave her anything like concoction to drink during their meetings.
"Anytime they appeared to me in the dream, I find myself at Ogoloma in Anambra state, precisely at Inagolo. Asked why she didn't relinquish her membership, Chiamaka further explained that "Anytime she wanted to go to church, they will make my legs weak and unable to move, and that would demobilise me until the church service is over. I will not be able to go and participate in church activities. I will sleep off until the church closes."
How she got the job of a nanny at her age, she reiterated that her uncle got her the job on 7th January 2022 and was promised to be paid N15,000. "I have not even received any salary before this happened."
At the moment, Chiamaka Odo is under the custody of the police awaiting prosecution.
Also paraded was a 26 years old Oluwatoyin Joshua, a hairstylist, who stabbed her former boyfriend to death over a N3,000 gift from a Yahoo Yahoo boy.
CSP Adekunle Ajisebutu in his brief explained that detectives attached to the State Criminal Investigation Department of the Lagos State Police Command had on the 26th February 2022 about 0630hrs arrested the suspect identified as Oluwatoyin Joshua for murder.
The suspect on the said day, stabbed the deceased, Olayinka Adebayo, aged 27 years, to death with a kitchen knife while fighting over the sharing of N3,000 given to them by a Good Samaritan.
The incident happened at Ogunnaike Street, Shangisha, Lagos. The suspect is in police custody while awaiting legal advice from the Department of Public Prosecution.
However, narrating what transpired that led to her stabbing the former boyfriend, Oluwatoyin, said that she hadn't the intention to kill him but had to use the knife on self-defence as the boy beat her to stupor.
According to her, "I just woke up from sleep when someone told me that my former boyfriend's friend, Abraham, a Yahoo boy, was around. As he was about living, he gave me N3,000 for both of us to be share.
"He told me to give Olayinka N2,000 while I take N1,000 because Olayinka was not around when the money was given. I gave him the N2,000 while I took my N1,000.
"He later pounced on me demanding that the N3,000 was for him. I asked he called the boy on phone to confirm. He ignored me and rather descended on me; beat and hit me several times on the ground.
"As that was not enough, he went for a bamboo stick and attempted to hit me but because of the weight, he abandoned it and turned to me again beating me beyond recognition. I ran inside the house. Yet, he came after me and hit a broken tile on my head and I had a cut.
"In the process, I got hold of a kitchen knife to frighten him so that I could escape. In a bid to do that, I stabbed him. But when I saw blood gushing out from his shoulder, I rushed him to the hospital for treatment and I paid N15,000 out of the N15,500 I had in my account.
About two hours later after treating the wound, the doctor said he had lost so much blood and needed a blood transfusion. In the process of getting the blood, he died due to the loss of much blood.
Oluwatoyin regretted her action as she hadn't the intention to kill him. She added that even though they were no longer courting, she hadn't any grudge against Olayinka as they remained friends, whom she referred to as a drug seller dealing on "Arizona" and "Loud".
Responding to sundry questions, CSP Adekunle Ajisebutu noted that on the palpable tension in the state about the activities of the National Union of Road Transport Workers (NURTW) causing trouble, he said the police is fully on the ground and would surmount any malfeasances.
He further stated that "as at now, Lagos remains peaceful and stable and it's going to remain so.
On whether any other arrest has been made in the case of Andrew Nice Omininikoro, the BRT driver that assaulted, raped and killed a 22 years old fashion designer, Oluwabamise Ayanwola inside BRT bus between Ajah and Oshodi before dumping her lifeless body on Carter bridge at Ebute Ero, he noted that making comments about the case which is already in the court would "be prejudicial and would amount to divulging their strategies on tracking the criminals."