The Director of Federal Capital Territory Health Insurance Scheme (FHIS), Dr. Mohammed Ahmed Danfulani in this interview with IKECHI ENWEREJI throws light on the activities of FHIS in recent times and the need for Nigerians especially the FCT residents, who are under his area of coverage to embrace health insurance as a matter of urgency. Excerpts:
Some time ago the FCT launched a 5-year Health Insurance Scheme for all the Area Council Employee, how effective has the scheme benefitted the targeted residents in the FCT?
Of course, Health Insurance generally is a very wonderful programme that seeks to prevent someone from catastrophic expenditure and protect him against unnecessary spending when he can actually benefit from health insurance. The scheme has been very effective and the Area Council workers are now assessing healthcare services with ease. 
Recently you flagged off the Abuja Drivers and Riders Health Insurance Programme (ABUDRASHIP); what is the level of compliance up to date?
The programme is going on very fine; at least we are told that more than three thousand lives have been registered and it is an ongoing process. It is only when all of them are being captured we will now commence the processing and engaging them for healthcare service delivery. So we are on track.
Statistics show that majority of Nigerians do not take health insurance very seriously. How often do you carry out a health insurance sensitization programme especially for FCT residents?
Thank you very much. One of the most difficult jobs to do is to sell health insurance especially when people are healthy and you are now asking them to pay for health in case they fall sick, it is very difficult. Some of them even go spiritual saying why would they be expecting diseases when they are actually alright. So, one of the ways we are going to go round it is to continue to sensitize the people to know the importance of health insurance; that even when they pay they are not sick that the money will be used to treat their brothers and sisters or their members of the community in one way or the other; so that is the way to go about health insurance. Otherwise, most Nigerians do not like to pay for health insurance especially when they are not sick.
Last year the whole world was overwhelmed with the challenges of the COVID-19 pandemic, what major roles would you say that FHIS played in combating the virus outbreak?
You know, this is a joke for everybody not only the health workers. Everybody in the country has a role to play. Our own is to ensure that hospitals under our coverage are giving services to the people because there was a lot of fear going to the hospital during that pandemic. So, we ensure that hospitals are ready to receive clients and give them services as required.
We also helped in the sensitization of the people by giving information to the enrollee and the general public as a whole on the need to protect themselves against COVID. We also assisted in providing some materials especially the face mask, and hand sanitisers to our staff and some enrollees to protect them against the scourge of the disease. So that is how far we went.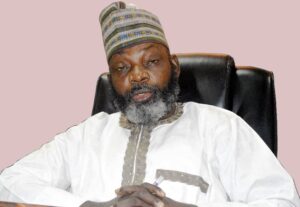 In your assessment of the COVID-19 pandemic break, what is your view about the health sector; did it affect the activities negatively or positively?
If there is anything that the COVID-19 has done is to expose the readiness or otherwise the healthcare system in Nigeria. It shows us our areas of weaknesses and also shows the need to strengthen the certain aspect of healthcare in our country. On one hand, it has cut the attention of the government to the fact that certain things are needed to strengthen healthcare; and I am sure that is still on the increase.
However, we are lucky in this country that the main challenge that is faced by COVID-19 was not like some other society; so, to that extent we are very lucky. I can say that COVID-19 has been able to expose our readiness and otherwise the healthcare system in the country.
What is your advice to Nigerians especially the FCT residents which are under your area of jurisdiction on the need to take a health insurance scheme?
The residents should understand the fact that health insurance is a protective way of securing your health at any point in time; you don't have to be sick to register on health insurance even if you are not sick there are people who are around who may be sick and may require this fund to get themselves treated. Everybody must take health insurance seriously. Health insurance also ensures that whether you have money or not, at any point you are sick you can walk up to your healthcare provider and assess service. So, nothing can be greater than that. We should also bear in mind that disease can come at any time, it does not give notice. The fact that you are well today does not mean tomorrow you will be well, you must prepare for the rainy day.
Finally, the Abuja residents should also know that COVID-19 is real and it is still with us. So we must follow all the protocols that are being stated by the government to prevent COVID-19. It is real until such a time when the government says yes, we can stop all this otherwise we must continue them.