By Okosun Dennis
The Onojie of Urohi Kingdom, Esan West Local Government Area, Edo State, His Royal Majesty, Uwuigbowen Otoikhine Dominic 1 has strongly advised every Esan, son and daughter, to embrace their tradition and culture at the expense of white man's culture and beliefs.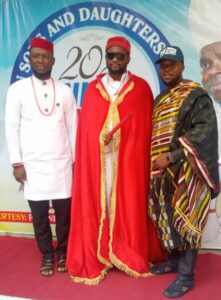 He spoke on Sunday at the 2021 Annual Thanksgiving Service of Esan Sons and Daughters resident in Lagos which was held at the St. Leo Catholic Church, Ikeja Lagos.
In his keynote address as the Special Guest of Honour, His Royal Majesty, Otoikhine I appealed to all Esan citizens across the globe not to shun home but see their various villages as a place that needed exponential development just as the urban areas where they are presently living.
He, therefore, called on them to remember their parents who have always and still working tirelessly to ensure that they become responsible people in society and in their chosen professions.
In his words, "I believe strongly in tradition; there are some aspects that I don't joke with but not those aspects that have diabolical connotation. The day you bow down to graven image or a strong man, that is the day your God will begin to leave you. Tradition is tradition. Let's not embrace the White man's culture and throw away our tradition.
"Traditionally, God is God."
There are some mysteries about Esan people you are not aware of. I am of the hope that by next year, more traditional rulers will attend this occasion to throw some lights on those mysteries.
"Let's endeavour to come home. If you have any activity, come home and do it. You are living great and happily here. Your parents are in the village; some are going through hardship occasioned by an economic crunch while some are being bitten by mosquitoes. Despite all odds, they're working tirelessly for your successes. You need to assist them at all times. Many of us are neglecting them, it shouldn't be so."
While quoting the Holy Bible to buttress his assertion, His Majesty explained, "I can stand anytime and anywhere today and say Esan is great. One thing Satan uses to oppress you is fear.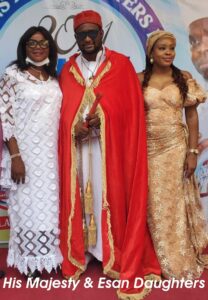 "There is one thing I understood about the scripture. A goat cannot give birth to a lion, and an elephant cannot give birth to a lizard. So, only goats give birth to goats and lions give birth to lions. We were born of God, therefore, we are God on Earth," Otoikhine I reiterated.
On his part, the Chairman, Organising Committee, Esan Sons and Daughters in Lagos, Mr. Kelvin Omojiade Edokpa tasked all the Enigines (traditional rulers) in Esan land to support the initiative and ensure all their subjects become bonafide members of the association.
He further disclosed that they have embarked on the construction of a multimillion naira state-of-the-art hospital; the translation of the New Testament of the Holy Bible to Esan Language. In addition, they have at various times, and still contributing immensely to the fight against insecurity in Esanland among other projects.
Chairman of the occasion, Right Hon Marcus Onobun, the speaker, Edo State House of Assembly was, however, represented at the occasion.
In his commendation message, the Public Relations Officer (PRO), Urohi Indigenes, Mr. Obue Kennedy Ede, applauded the organisers and at the same time, called on every Esan indigene to make a generous contribution to the project of translating the New Testament into Esan language, emphasising that such feat is similar to what the late Bishop Ajayi Crowther achieved for the Yoruba race.
However, he canvassed for the incorporation and inclusion of other Esan towns Union into Esan Sons and Daughters, Lagos.
The thanksgiving Service is an annual event organised by Esan Sons and Daughters who are members of St. Leo Catholic Church, Lagos.