Military Pensioners Protest: Defence Minister Summons CCV for talks
By Okosun Dennis
Less than three weeks to a planned protest by military Pensioners to express their angst against the Ministry of Defence to pay their arrears and Debarment Allowance, the Minister of Defence has formally invited a Coalition of Concerned Veterans of Nigeria (CCV) for a meeting.
The meeting scheduled to hold on August 6, 2020, in Abuja will address issues that border on the non-payment of Debarment Allowance to pensioners.
In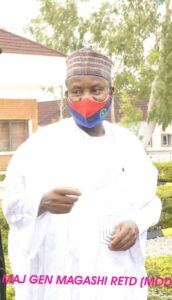 a letter signed by Brig Gen A. J. Fagge on behalf of the Honourable Minister of Defence and dated July 28, 2020, titled: "Invitation to Attend a Stakeholders Meeting to discuss issues concerning payment of Debarment Allowance, and addressed to the Chairman, Coalition of Concerned Veterans (CCV); for a meeting is expected to hold on Thursday, August 6, 2020, at the Honourable Minister of Defence Conference Room, Ship House, Abuja by 1400 hours.
Part of it stated: "The Chairman is please to inform you that the Ministry of Defence is organizing a Stakeholders meeting with Veterans Association in Nigeria to discuss issues concerning the payment of Debarment Allowance to retired members of the Armed Forces."
"In view of the above, I am directed to request the chairman to kindly nominate two Representatives to attend the meeting as scheduled."
However, in his reaction to the invitation, the Spokesperson of Coalition of Concerned Veterans (CCV), Comrade Sedisyne Abiodun Durowaiye-Herberts said the invitation was a welcomed development.
He added "that was actually the motive of our letter to the Honourable Minister of Defence."
It would be recalled that military pensioners have been agitating against the fragrant disregard to their welfare needs and failure of the Federal Government, Ministry of Defence and the Military Pensions Board (MPB) to pay outstanding arrears and other allowances.
It was also gathered that the veterans are demanding for the payment of their entitlements and better treatment which include balance of 2017/2018 arrears; Minimum Wage Consequential Adjustment and its arrears dating from April 2019 to date and Security Debarment Allowance that was denied majority of military Pensioners.
Other grievances included a plan for a realistic health insurance scheme to cover treatment of Service-related injuries and disabilities.
https://any.peopleandpowermag.com/military-pensioners-protest-defence-minister-summons-ccv-for-talks/