It is not quite common to see men of God who are into commercial activities that generate huge income to cater for their needs and the needs of many privileged ones while at the same time partaking actively in their gospel ministration without allowing one to suffer for the other.  Here comes a man;  Evangelist Emmanuel Josiah who is doing well both in business as the Chief Executive Officer of his company and also as a pastor in a Bible-believing church.  Editor-in-Chief, IKECHI ENWEREJI had an exclusive interview with him in the last days of 2021 during which he spoke on various human-related issues. Excerpts:
Can we meet you, sir?
My name is Evangelist Emmanuel Josiah from Eziama Ntighuzo in Obingwa Local Government Area of Abia State. I am a businessman, a gospel preacher, and a servant of God in the vineyard.
What motivated your humanitarian gestures?
My background is my motivation. I came out in life and discovered that living without the help of anybody is a very big challenge. My parents were very poor to the extent that I could not continue my education. So I dropped out of school and went to learn a trade in the year 2000 for seven good years. After the apprenticeship, there was nobody to settle me and that was the beginning of another struggle in my life.  As I was growing up I discovered that people without anybody to help them are in deep trouble. It was all these challenges that led me to vow that I would help people around me if I succeed in life.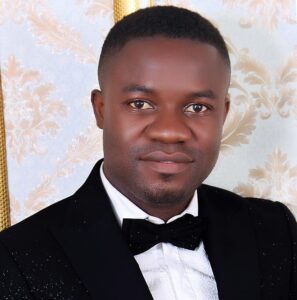 Can you count the number of those who have so far benefitted from your philanthropy?
Honestly speaking, I cannot remember because I help people every day. I started building houses for the less privileged, widows from the year 2012 and I am still helping people up to this moment.
Currently, I have 28 students on full scholarship from different villages and communities. They are children that dropped out of school and have lost hope of education.  They are people that even though you paid their school fees they would not be able to go because of what to eat. Then I decided to fund their education and put them in the boarding school where they will stay, study, and eat; all their basic needs are provided for. They live in the school throughout the academic year and are only allowed to go home once a year and resume for the next academic session. There are also some sets of students too that go to the school from home; those ones are still with their parents.
This year 2021; about 15 persons with critical health issues have been given medical treatment and surgery. These people were helpless and had nobody to help until I came to rescue them. They have all recovered fully and are doing well.
I have built houses for widows and people living in shanty houses. The most touching of them all is a family of six who were living in a mud house that was almost collapsing.  I was moved when I saw it.
By the grace of God, I built a house and handed it over to them and equally handed them over to God to go and serve Him. To the glory of God, as at today, they attend the Assemblies of God Church and they are committed members there. That's what God can do. As at the time I came in contact with them, I did not have enough money to commence the project but God helped me and I got a loan and finished the house project. Today, that family is happy because they are living in a comfortable home.
So, my motivating factor is that the more people I help; the closer they are to God. They see reasons to serve God because their hopes are restored.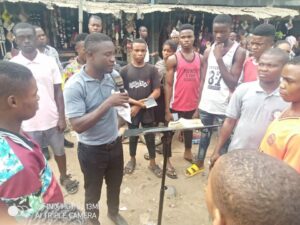 Where do you see your Foundation in the next five to ten years?
I have a vision and dream that in the next five to ten years I will be able to build hospitals and schools for the less privileged; for people in the street because I discovered that people are dying every day largely due to lack of who will take care of them.
I discovered that people die every day because they cannot pay hospital bills; I discovered that some pregnant women cannot go to the hospitals and deliver their babies in peace because of who will come and pay their bills after delivery. Some of them go to maternity homes and some of them died in the process.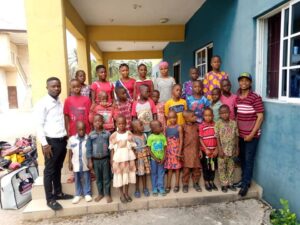 So, I have a vision, dream, and passion to help as many people as I can by the special grace of God.
In the next five years, I am optimistic that I will be able to build hospitals and schools in different communities to assist such less-privileged ones. It pains me to see people walking in the street helplessly without anyone to attend to them, especially the jobless young ones and that is where the urge to do evil and engage in all manner of unwanted and criminal behaviours begins from.
When people are given quality education, their minds will be equipped and they will be liberated from engaging in all kinds of activities that are detrimental to their lives and the society at large.
So, I am hoping that in the next five to ten years, I will be able to establish institutional centres for learning including skills acquisition empowerment programmes.
Do you have any intention of going into politics in the future?
I do not have any political intention because the Word of God says that man cannot serve two masters at the same time. I am a servant of God, born again and spirit-filled. I strongly believe in my faith and I cannot compromise it in any way with political activities and agenda. But I have an interest in my people to assist them to live a better life.
However, I have been offered some positions in the past in my community and I have equally rejected them without thinking twice.
I am not saying that politics is bad; I stand to be corrected anyway. I have an office I am occupying at the moment which is the office of a servant of God. My intention and mindset are to work for the Kingdom, not everybody will be a politician. I know that there are servants of God who are involved in politics and they are doing well for themselves.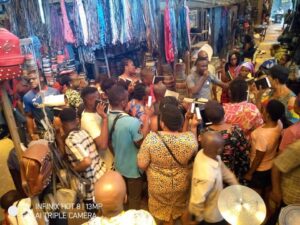 There is the belief in some quarters that Nigeria is going through difficult times because Christians shy away from politics. As a gospel preacher, would you turn down a possible nomination by your people to represent them politically?
Yes. Probably, for now, I do not have any interest in politics. I have a burden for mission work and I am so committed to reaching out to the world, to instill hope in the hopeless and make them realize that God has not forgotten them.
Are you a general overseer of a ministry or a supporting minister?
I am not a general overseer; I am a supporting pastor in the church, Whirl-Fire International Church Inc., in Aba, Abia State.
We have so many youths who are into cybercrime and other fraudulent activities in the country.  What's your advice to these young ones?
My advice to them is that they should disengage from such acts of criminality as the only way they can find fulfillment in life is by submitting themselves wholeheartedly to God. Using myself as an example, I gave my life to Christ at an early age and since then I have seen the goodness of God. I have seen the wonders of God manifest in diverse ways in my life and I have no regret doing that. The only way to have peace in life is by surrendering yourself to God.
There is no future in engaging in criminal activities.  Whoever does such is bringing generational bondage and curses upon himself and his entire family.
Anyone who is into such an act is actually defrauding his life and future without them knowing because whatever you get from dubious activities will surely come back fighting you.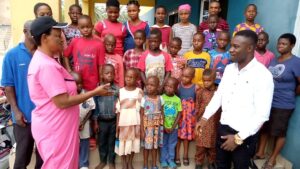 With a benefit of hindsight, what is your take on the assertion of people who indulge in illegal means of acquiring wealth with the excuse that they lack family help?
That is the foolishness of some people because when you begin to give excuses of no help, as a reason for engaging in criminality, that is absolute nonsense. The Bible says the people perish because of lack of knowledge. Everyone on earth is a product of the grace of God. The God that created man has a future for everyone and you must strive to discover your destiny in God. What you need is just to have the desire and the knowledge of God then you must find something doing.  If it is getting a skill or learning an apprentice of a trade or whatever, do it and see God bless you through your work. There is no success in life without you engaging yourself in a profitable business or skill acquisition. Engaging in criminality or any form of illegality will definitely destroy you at the end of the day.
I could not proceed further in my education after my primary school due to my parents' inability to see me through but I went to learn a trade after which I was settled and that is where God is making a name for Himself in my life. Experience and knowledge are what give success and not money. When you give money to someone who does not have the experience he will waste it without achieving anything.
So when someone said because he does not have anyone to help him or her that is why he entered into a criminal act; that is foolishness and stupidity. None will say that he came into this world with money.  No, it is the work of your hand that God will bless and you produce money.  Most great achievers of our time did not have a pleasant beginning but they persisted and kept pushing until they made it. I encourage everyone in that situation to wake up to reality and know what to do right and God will bless them.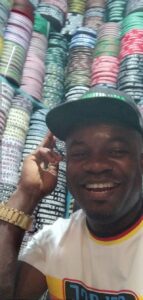 Let's talk about Evansino Nigeria Limited.  What can you say about the company?
Evansino Nigeria Limited is a business that deals in shoes, clothes, and bag materials. We also deal in zips, leather, buckle and so many others.
How do you combine business and gospel preaching?
It's been so easy for me because before business I have been involved in ministry work. So I am more in ministry than in business. What drives a man is his passion, and where he is going. My passion for ministry than business is attributed to the fact that when you make God the centre of your life, the business will be so easy to manage and progress. Whenever I am short of cash, God has always proven to be my sufficiency. I wholeheartedly depend on him and allow him to take my lead. There is time for my business and there is equally time for my ministry.  Two of them cannot clash because I put in good time and energy in managing the two.
Who are your partners in your Foundation?
For now, I do not have any partner, it is a personal effort. I have never had any support in terms of financial contribution from anybody. My only support is from God. I have not sourced any financial help from anybody.  It is my heart's desire to do all that I am doing. Sometimes, if I am short of cash I borrow funds to ensure that I complete any project and pay back in due time so that my generation will feel and enjoy the goodness of the Lord in life. God being who He is, has never failed me, He's been helping to carry out and fund all the projects to completion.
************************************
For detailed information on how to partner with EVANSINO FOUNDATION, sponsor a child to school or donate to a project, contact Evang. Emmanuel on +234 803 287 3630; Media Coordinator on +234 813 762 1381. It pays to put smiles on peoples' faces.