NACOLM UNVEILS NEW COLLEGE NAME, INAUGURATES SENIOR LEADERSHIP COURSE
The General Officer Commanding (GOC), 81 Division, Nigerian Army, Major General Obinna Ajunwa on Friday, January 27, 2023, inaugurated students of Senior Leadership and Staff Officers Course (SLSOC) 1/23 and Logistics Staff Officers Course 20/23.
The event took place at the Nigerian Army College of Logistics and Management (NACOLM) permanent site, Ojo, Lagos.
In his welcome address, the Commandant NACOLM, Major General Adekunle Adeyinka said that the College has remained a centre of excellence for logistics training and general manpower development for the NA and other subscribing Services and agencies.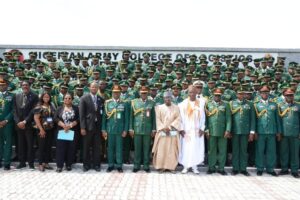 According to him, the College recently took the additional mandate of conducting leadership and staff courses at both junior and senior levels, stressing that the College proudly graduated the maiden set of the Junior Leadership and Staff Officers Course in December 2022.
The Commandant while stressing the issue of resource management, admonished the students to be mindful of the fact that the resources at their disposal which are time, space, money, and material/equipment are to be utilized judiciously. He urged them to do their assignment and group work seriously and not to procrastinate.
Earlier, the SGOH, Gen. Obinna Ajunwa used the combined occasion to unveil the new College name and logo located at the entrance of the Headquarters NACOLM Complex.
Given the reasons for the change of name, the Commandant NACOLM explained that in view of the College's expanded scope, the Army Headquarters approved a review of the College's name from the Nigerian Army College of Logistics (NACOL) to NACOLM.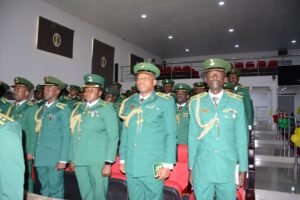 He added that the reviewed mission, course/learning objectives, organizational structure, and curricula were also approved for NACOLM, a development which became imperative so as to align the College with the emerging needs of the Nigerian Army and international best practices.
Highlights of the event were the inaugural lecture by the SGOH on 'Mentorship as a Tool for Effective Leadership Training: The NA in Perspective', the presentation of souvenirs, and refreshments, and the winning of newly posted NACOLM staff officers and students.
Other officers present at the occasion were the Deputy Commandant/Director of Studies NACOLM, Major General MW Abubakar, representatives of Corps Commanders/Commandants of NA schools within 81 Division Area of Responsibility, staff officers of NACOLM, the College partners/collaborators amongst other invited guests.
https://any.peopleandpowermag.com/nacolm-unveils-new-college-name-inaugurates-senior-leadership-course/