…Says illicit trade competes with arms, drug trafficking as 2nd largest criminal industry in the world
With over 27 million persons trafficked globally, the National Agency for the Prohibition of Trafficking in Persons (NAPTIP) says the illicit trade competes with arms and drug trafficking as the second largest criminal industry in the world.
Noting the need to flatten the curve of human trafficking in the country, the agency also revealed that human trafficking currently generates between 32 and 150 billion US dollars annually.
This was disclosed by the Zonal Commander, NAPTIP, Lagos, Mr. Daniel Atokolo at a one-day training organised for members of the Justice Development and Peace Centre (JDPC), Festac, an NGO within the Catholic Church.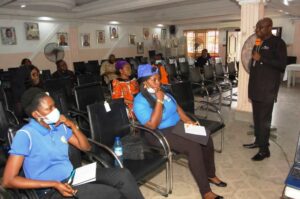 The training on combating Trafficking in Persons (TIP): The Nigerian experiences, according to the Zonal Commander, NAPTIP, is one of the events from the agency to look for worthy partners they can collaborate with.
Atokolo noted that human trafficking has more internal links hence the need for such collaborations; especially within the Church where the message on the dangers of human trafficking, how and what to do to avoid being trafficked can easily reach a considerable number of individuals.
"Human trafficking is a transnational organised crime. Basically, it is either internal or external and there's a huge case of internal trafficking and once those trafficked cross international boundaries and borders it becomes external trafficking".
"So many Nigerians are coming in from Lebanon and NAPTIP working with the Diaspora Commission, the Federal Ministry of Foreign Affairs, IOM, UNODC etc. We're bringing Nigerians back home".
"NAPTIP under the watch of the current Director-General, Dame Julie Okah-Donli is leaving no stone on turned at ensuring continual interface and communication amongst and between the various stakeholders for information sharing and a common understanding of Trafficking in Persons issues".
"Through collaboration championed by the DG we were able to get the Oba of Benin to gather the Witch doctors and Herbalists to talk to them so that we could stop the practice of oath taking and other forms of rituals by the victims of Human Trafficking and today that collaboration and conversation has yielded fruit. We have been able to stem that tide in Benin".
Also speaking at the event, the Festac Deanery Coordinator of the JDPC, Mr. Onyema Onyenakeya said the training would further help members of the organisation, working as partners in progress with NAPTIP to rid Nigeria of the menace of TIP, especially within the Church.
"We're happy to be part of this training and we'll continue to work and collaborate with NAPTIP in this regard," he said.
He expressed the felicitations of the Director of the Lagos Archdiocesan JDPC (Rev. Fr. Raymond Anoliefo) to the organizers, facilitators and participants of the workshop and called for proper financing of the agency to enhance her work.