…AS MERCY AIGBE ABSENT DUE TO INJURY
By Okosun Dennis
The journey for the ultimate prize of N120 million, inclusive of a 5-Bedroom Duplex in Lekki, all-expense-paid trip to Dubai, and lots more, for Ninalowo Bolanle, alias Nino-B has ended as he was evicted Sunday night.
He was the first housemate to be evicted in the Celebrity Come Build Naija Reality TV Show.
Three celebrities – Mercy Aigbe, Josh2funny and Ninalowo Bolanle – had been placed on probation for possible eviction, following their low performance in their tasks. Ninalowo Bolanle wasn't able to be saved by his fans, having scored the lowest votes among the three on probation.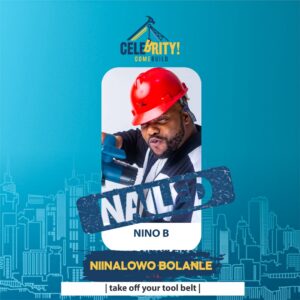 Josh2funny who couldn't contain his joy of being saved by his fans said: "I couldn't believe I'm going to escape eviction, but I escaped it. I thank God who has made it possible and I thank all my fans that have voted for me; they have tried to vote me back into the show. I want to thank them," he thundered.
The comedian promised to bring out his A-game from now till the end of the show. "What you are going to see is hard work. I am going to be working very hard to justify your votes."
Mercy Aigbe was however absent at the eviction show due to an injury sustained on-site. The remaining celebrities to battle for the grand price in this tasking building project are: Nkechi Blessing Sunday (NBS), Munirat Antoinette Lecky (Antolecky), Saheed Muhammed (Funky Mallam), Michael Ugochukwu Stephens (Ruggedman), Rosemary Afuwape (Rosie), Tope Adenibuyan (Teddy A), Adeyela Adebola (Lizzy Jay), Mercy Aigbe and Josh Alfred (Josh2funny).
As your favourite celebrities are getting busy, remember that the winner of CCBNaija can ONLY be determined by YOU, the viewer. Bear in mind that one lucky fan with the highest vote wins the 3-Bedroom Bungalow built by the celebrities. As a fan, the more votes you cast for your favourite celebrities the better your chance of winning the prize.
Search for "CCBNaija" on YouTube to watch daily episodes of the show. Also catch all the building drama, raw unfiltered access and footage of your favourite celebrities daily.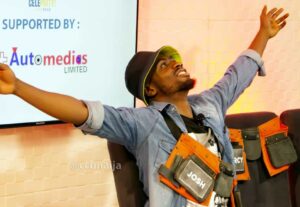 HOW TO VOTE:
*bankcode*000*contestant code (number of votes) for example, (if you are using GTB and sending 10 votes) *737*000*54900010#
Teddy A Code: 5491001; Mercy Aigbe Code: 549002; Anto Lecky Code: 5491002; Rosie Code: 5491003; Funky Mallam Code: 5491004; Josh 2 funny Code: 5491005; Nkechi Blessing Code: 5491007; Lizzy Jay Code: 5491008; Ruggedman Code: 5491009.
To vote for your favourite celebrity in Nigeria, visit: www.ccbnaija.com/vote
Click on the vote icon beneath your preferred celebrity's name: fill the form, submit, choose your preferred payment method, and complete the steps.
For voters outside Nigeria, visit www.ccbnaija.com/vote
CLICK on the international vote button at the top of the page, click on the vote icon beneath your preferred celebrity's name: fill the form, submit, choose your preferred payment method and complete the steps.