NSCDC Bursts Pipeline Vandals, Impounds Tanker With 60,000 Litres PMS
By Okosun Dennis
The Lagos State Command of the Nigeria Security and Civil Defence Corps, (NSCDC) has burst a syndicate of oil pipeline vandals in the Baruwa area of Alimosho Local Government in Lagos State.
The vandals had vandalised the NNPC pipeline in the area but were Outsmarted by the NSCDC operatives while they made attempt to escape with a full load of a tanker containing 60,000 litres of Premium Motor Spirit (PMS), also known as petrol.
The spokesperson of the agency, Assistant Superintendent, Abolurin Oluwaseun, who disclosed the arrest in Lagos, said they responded to a tipoff in line with the corps' statutory functions and mandates.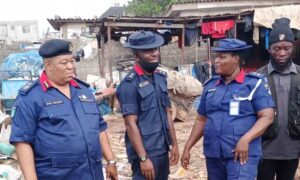 The Commandant Nigeria Security and Civil Defence Corps, Lagos State Command, Commandant Ayeni noted that on receiving a signal via the Commands. Community-Based Intelligence Network, about the criminal activities of the vandals at the Baruwa area of Alimosho Local Government, on Saturday, April 10, 2021, about 01:35hrs, ordered the Head of the Anti- Vandal Unit on patrol to swing into action in a bid to arrest them.
During the operation, the Armed Squad Commander of the Command and the Divisional Officer, Alimosho Division, were ordered to provide back up for the operatives already at the scene.
However, in the process, the men of the command were attacked by some hoodlums but with the combined efforts of the Command's team, they overpowered and smashed the vandals at the scene.
The efforts paid off as two males of the vandals, a tanker (Mack) fully loaded with 60,000 litres of Premium Motor Spirit (PMS) were arrested and impounded.
The tanker containing the 60,000 litres of (PMS – petrol) and the two vandals are currently helping men of the NSCDC in their investigation over the illicit act perpetrated by the vandals with a view to getting to the root of the matter.
The NNPC authorities in Lagos have been informed about the dastard act of the vandals on their pipeline as repair works have commenced.
Commandant Ayeni PK however said that the escaped vandals would not be spared as the Command will ensure they are arrested and brought to book.
He appeals to Lagosians to remain vigilant and ensures maximum security of lives and property as well as all critical national assets and infrastructure in Lagos State.
In line with the Commandant General's goals and aspirations, CG Abubakar Audi, Commandant Ayeni has warned vandals to desist from the act as sabotage against the nation's economy and security will not be tolerated.
https://any.peopleandpowermag.com/nscdc-bursts-pipeline-vandals-impounds-tanker-with-60000-litres-pms/