The State Commandant of Nigeria Security and Civil Defence Corps (NSCDC), Anambra State Command, Isidore C. Chikere has assured members of the public that the command in conjunction with relevant stakeholders will ensure that sexual and gender-based violence (SGBV) is put to a decisive end.
Comdt. Chikere, in a statement by the Public Relations Officer, DSC Okadigbo Edwin, disclosed this during a one-day seminar on Preventions/Responses to Sexual and Gender-Based Violence organized by the Gender Unit at the State Command Headquarters Awka.
Speaking, Deputy Commandant Steve Ikeorha who represented the State Commandant said the seminar is aimed at improving the delivery of personnel-mandated tasks, especially in the conduct of law enforcement actions along with the application of gender and development with relevant skills to effectively carry out their statutory responsibilities.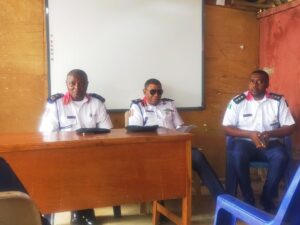 According to him, the Corps plays a unique and important role in the response and elimination of gender-based violence and sexual abuses, hence the need to educate officers and create responses and interventions that are safe and supportive for victims and survivors.
In her lecture, DSC Sopuruchi Nwokoji, Head of the Gender Unit said Gender-based violence constitutes a severe violation of human rights.
Nwokoji called on participants to have a holistic approach to how best to actively engage in a preventative mechanism for those most susceptible to abuse as well as reviewing the responsiveness of victims.
She enumerated gender-based violence as psychological, physical, and sexual abuses, as harmful practices such as intimate partner violence, sexual assault and harassment, child marriage, female genital mutilation, and human trafficking pledging the commitment of the unit to prioritize the safety and well-being of those most affected by this ordeal.