NURTW Madness: Police Restores Normalcy In Obalende …Arrest Six Members
By Okosun Dennis
After the early morning season of anomie between rival groups of National Union of Road Transport Workers (NURTW) in Obalende, South West, Ikoyi, men of the Nigerian Police have restored peace and arrested six members.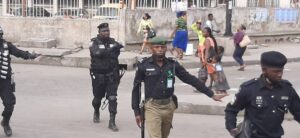 It was learnt that soon after the crisis erupted as they battled one another with cutlasses and gun, the police Command deployed resources with which they dispersed and suppressed the hoodlums that fomented troubles  at Obanlende area of Lagos State and succeeded in restoring normalcy.
Police preliminary findings indicated that the crisis occurred on Thursday, February 11, 2021, was between transport unions in the area and no life was lost.
"Six suspected hoodlums have been arrested and handed over to state Criminal Investigation Department, Panti, Yaba for discreet investigation.
To sustain enduring peace, the State Commissioner of Police, Lagos State,  CP Hakeem Odumosu, has directed the Area Commander, Area A, Lion Building,  ACP Bode Ojajuni, to intensify efforts on flushing out the hoodlums out of the area and on the Lagos Island in general.
Odumosu, however, warned that the command would not condone any act of lawlessness and criminality in the state.
Meanwhile, the spokesperson of the Lagos State Police Command, CSP Olumuyiwa Adejobi disclosed that the leaders of the Transport Unions in the area have been invited for interrogation and further actions.
https://any.peopleandpowermag.com/nurtw-madness-police-restores-normalcy-in-obalende-arrest-six-members/