If there is one man who personifies emergency disaster management within Nigeria's Federal Capital Territory, it is the Director-General of the Federal Capital Territory Emergency  Management Agency (FEMA), Alhaji  Abbas Garba Idriss who is the pioneer DG and has continued to be progressively in charge of the Agency.  In this interview with the Editorial Team of PEOPLE AND POWER led by the Editor-in-Chief, IKECHI ENWEREJI, the DG fielded questions cutting across various aspects of the Agency. Excerpts:
Sir, unarguably you are the pioneer Director-General of FEMA, but *please can you tell us more about yourself
I was born and brought up in Bauchi and I graduated from the University of Maiduguri with my first degree in Economics and my second in Management. About three decades of gaining some work experience in the insurance industry, I moved to Ahmadu Bello University, Zaria, where I obtained my Master's degree in Disaster Risk Reduction Management and Development Studies. On completion of the programme I got the invitation to come and start up this agency. Currently, I'm writing the last chapter of my PhD thesis in Political Economy Development Studies, at the University of Abuja. I am happily married with children.
How old is FEMA now?
FEMA was born on June 13, 2013. I look at this interview as an anniversary interview; come June 13, 2022, we are going to be nine years.
 How would you assess the achievements of this agency in the last nine years?
The agency's mandate is purely to use a combination of both human and material resources to harness and tackle disaster management within the Federal Capital Territory and it is in line with the National Framework on disaster management whereby at the national level we have National Emergency Management Agency (NEMA), at the state level we have the State Emergency Management Agency (SEMA), in which FEMA is one. We are not called a state; we are federal that is why we are called FEMA instead of SEMA. At the state level, they are called SEMA. Then at the local level, we have the Local Emergency Management Committee.
The act that established NEMA, is the same act that established all these hierarchies for the sole mandate of responding to emergencies within a short period of time. The first responders are the SEMA before NEMA. If you look at the activities, we are carrying out in the FCT, it is purely FEMA that is present there because that is our mandate and our own responsibility. We bring in NEMA by way of collaboration and synergy, that is all, but they are not the first responders.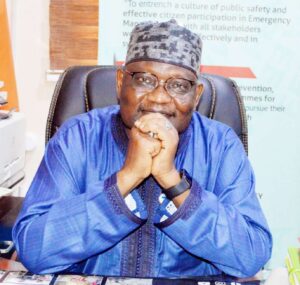 So far so good, we have done a lot, especially in educating the public because, before now, everybody knew only NEMA. Even those that are within the system in the FCT, refer to us as FCT NEMA, because NEMA has been there for too long but thank God we are doing our best and we are really transforming the FCT, and people are realizing that in the case of any event and they call on us, we will respond because we run a 24-hour shift. Our response team is there 24/7. We work assiduously to ensure that we protect the interest and safety of the residents of the FCT.
Apart from educating the public, we have done a lot in carrying out capacity building for our staff. We bought the equipment with the resources at our disposal. We also built and strengthened our relationships and collaborations with the stakeholders. The stakeholders are our assets.
Our own is to coordinate the response. If we do not carry the stakeholders along, we will end up not doing anything at the end of the day. They are our pride and we are gladdened that whenever we have anything and call on them, they will be there. I'm sure you saw some people in our meeting room as you were coming in. They are some of our stakeholders working in some sectors that we assigned to know certain things about them. You can see different people and different combinations working together. That is the beauty of the coordination that we are giving and the leadership we also render.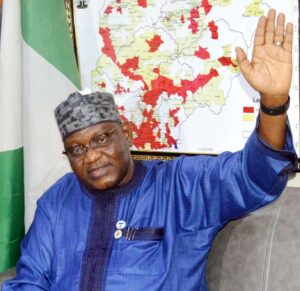 Besides local synergy with sister and related agencies, has FEMA had collaborations with international organisations in the past or at present?
Yes. Our first collaboration was with United Nations International Children's Emergency Fund (UNICEF). It was the international agency that helped us develop our emergency response. We converged in Kaduna and had a one-week retreat, developing the emergency response plan among all the stakeholders, not only FEMA staff. We drew membership from all the stakeholders from the Police, the Army, DSS, Health, Education, and all the sectors you can think of.
We also had a lot to do with the United Nations High Commissioner for Refugees (UNHCR), who gave us capacity building on Camp Management and Camp Security, which are the kinds of stuff we are exposed to. United Nations Development Programme (UNDP) as well, we had a lot with them. Japan International Cooperation Agency (JICA), OYKA and so many other agencies that are our international development partners are interested especially in making sure that disaster risk reduction measures are being taken. We also have a very good collaboration with British High Commission as well as United State Agency for International Development (USAID) and Department for International Development (DFID). We do a lot of structuring when it comes to issues of Disaster Risk Reduction, Counter-terrorism, and other aspects that will develop the capacity of our staff.
 How often does the agency engage in capacity-building since constant training is inevitable to avoid failure?
Training is a very vital aspect, especially in a sector like our own that is very new. If you drive staff from all the agencies to come and work here and you do not build their capacity, you will not be able to move forward. Like I will always say, even if you are an Admin officer, the way we write our own letter is different from the way you were writing as an Admin officer elsewhere, so we need to train you.
First, when we have new staff, we give them an orientation to change their psyche to know that they have come to a new place and the concept and the way of operation differ. Secondly, also, they should know that this is a humanitarian agency, if they come with the intention of making money, they are deceiving themselves, but if they come to render their services to humanity, then, they are rendering it to God. They will have a space and will have an everlasting reward, not in terms of devaluated currency.
We also make sure we get appropriate people or environments that will train them on their schedules. We have the schedule for internal training that is in-house. Due to scarce resources, we are unable to take everybody so we have to train the trainer. There are some of us who were opportuned to go outside to the United Kingdom, Japan, and other places and got trained, then we came back and cascaded it down to other staff who were not there.
Apart from that, we go round to solicit training, as I said, UNHCR, JICA, UNICEF, DFID, USAID, and others are giving us training. Majorly, we also collaborate with the Ministry of Budget and National planning through their international corporation department, which is also coordinating international NGOs coming in to give that kind of training. Before COVID, they could send you out to go and train but when COVID came, they localised it. We have had lots of training and we are still expecting more from them to build our own capacity. There are online courses that we are still encouraging our staff to do to boost their knowledge. With a small amount of money, you can have a certificate from integrated organisations outside; some are also free.
 Did you participate actively during the COVID? Kindly mention the roles played and scorecard if possible.
Certainly, we participated. FEMA was the Chairman of the Palliative Distribution Committee. We actively participated in the palliative distribution committee and the situation room as well. Our team of paramedics, other medical personnel, and the Responders were in the Situation Room while others were in the Palliative and that earned us this award. A lot of individual awards went to staff that worked hard because we worked 24/7, as we were receiving items throughout the night from suppliers, in the morning distribution went on till the next day. So that was what we had and it was one of the best distributions ever made because we did house-to-house distribution, even though we could not satisfy human beings. We had to beat our chests to do the right thing. We tried as much as possible to follow up, and we have documented evidence of all the telephone numbers and the names of beneficiaries bound together for future reference.
We are already in the rainy season and you know some areas in Abuja are prone to Disasters and floods. How prepared are you for the season?
We are prepared.
How?
Let me give you the template. After the rainy season and every incident, we do a review of the incident to see where the gap is. After the rainy season, we also sit down to analyse the whole incident internally, revisit the incident scene, looking at it critically. The last time we visited was during the rainy season and there was water, but during the dry season, we look at the factors that caused the flood. Then we call on stakeholders that are relevant in that area to point out what needs to be done; an adjustment or removal, they will do it. Most times, we find out that flooded areas are areas without engineering infrastructure and if there's no engineering infrastructure, that area is supposed not to be inhabited according to the plan and the law of the FCT. The FCT plans the settlement in phases and the first thing that goes into a place is the provision of engineering infrastructure, once there is one, it is assumed that the facilities are available such as the drainage system, water system,  road network and all the site plans and the silver lines removed, and then all the green areas, recreation centers as well as flood plain areas are marked so that the land will then be allocated to people who are ready to build. People build according to the approval given to them. Those areas having floods now are areas that have been violated because there is no engineering infrastructure like Lokogoma for example, there is no engineering infrastructure. If you look at TradeMore, there is engineering infrastructure but people violated the master plan to build on waterways, flood plains and green areas, thereby, blocking the free flow of water.
What are the punishments for those who violate the free flow of water and build on waterways apart from the demolition of structures?
Nobody will give you the approval to go and build on water-ways, none at all and that is why we are removing every structure on waterways now. If you think you have approval, go to court. The Minister has categorically stated that even if he had given approval mistakenly, he is ready to reverse that approval and give you land elsewhere and we have waited but nobody came up. One life is very important to us.
Last year, we lost five lives as a result of flooding.  The previous year we had an incident where a Director died at Galadimawa Roundabout. For how long shall we continue to lose lives due to the non-compliance of the residents, later the same people who built on the waterways will start attacking the government? Hence, the Minister gave the directives that all obstructions around the waterways should be removed and that is why the removal is going on now. It started during the dry season and it will continue throughout the rainy season and this will be sustained after. So, anyone who has money to waste should go and build on waterways. If it's your hard-earned money, you will think twice before you build.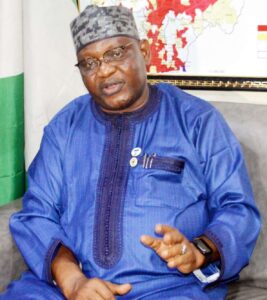 There is a report that 25 houses have been marked for demolition by AMAC.
Twenty-five in Abuja? No, that is just in Trademore. More than 100 houses have been marked and they are going to be removed. About 30 have been removed last week, the remaining ones will follow. That is just Trademore, we have other houses at Lokogoma, EFAB, and other estates around that area.  They are going to be removed as well. Then we will also move down to Lugbe side. There was another estate that was removed completely along Lugbe side. That estate was completely illegal, there was no single house that was approved for construction, so the whole estate is gone and that is going to be sustained.
 Why do you allow them to raise the building before demolishing it? Is it not the government that allowed them?
If you say allow,  that means you have a paper given to you to go ahead and build that is being allowed. But they don't have. Has anybody shown you any paper from the government indicating that he was given the approval to build? Then it is not allowed. It is illegal and you know, illegality has become the order of the day. If you go to the traffic light now, you will see people breaking the traffic rule. They don't wait to follow the light, they just keep beating traffic, and you cannot say they were allowed to beat traffic. Nobody allowed them, everybody knows the traffic law – that one is not allowed to beat the traffic, but they do.
In the same way, you are not allowed to build without approval but they go ahead and build. And let me tell you the funny aspect, a weekend with a one-day public holiday is enough to give you a three-story building. If you have Friday, Saturday, and Sunday, and you are resuming work on Monday, by Monday, if you have virgin land, you will come and see a three-story building awaiting roofing.
 Have you ever had any town hall meetings between you and the developers?
No, you see, our own responsibility is to the relevant secretariats; development control, engineering services of the FCDA, Urban and Regional Planning and other relevant sectors dealing with these people, because if I am to call the developer, on what basis but I can tell urban and regional planning, that there is an infraction, please get to this estate, and call them to order and then do the needful because they have the master plan. And then development control also approves the plan. So, development control will now go and ask who gave the approval? Will you say another person gave you approval when you have the approving officer asking you who gave you approval, you can't say FEMA gave you the approval because we're not entitled to give the approval to build. So, development control will then mark it and move for destruction.
In terms of monitoring, does the agency have monitoring units?
We have a Monitoring and Evaluation (M&E) team. They carry out what we call Post-disaster and Pre-disaster assessments. Where we go and drop a note, it is the responsibility of the M&E to follow up to ensure compliance and then to draw the attention of the relevant agency that we dropped such a note for. For instance, if there is an infraction here, and we feel development control should come and remove it, the M&E will follow up to ensure that development control has removed that infraction.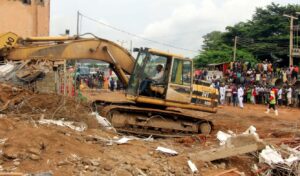 Do you not envisage any form of sabotage in all these things?
You cannot rule out sabotage in the system, but what we do, is not to talk about whatever report we generate we send directly to the Minister since we report to him to get his approval. By the time we get the approval of the minister, we will now send that approval to the Development Control or any other agency affected noting that the Minister has given orders because we will send our report with recommendations based on what we have seen. We can ask the minister if a building should be removed. We can ask the Development Control to go and look at it if you have exceeded it because you're supposed to allow it from 20 to 50 meters away from the waterways.
 Like buffer zone?
Exactly, but that is based on the hydrological report depending on that area. So, sometimes if the hydrology level is high, then that means you are going to give up to 50 meters, if it is not high 20 – 25 meters is okay. Sometimes we see encroachment going beyond that. We can then ask the development control to remove that structure, not the entire structure, but the embankment they created around their houses so that water will not come in. By doing so, you're conscripting the waterways. So, if you conscript the waterways and the volume of water comes, definitely, it will overflow but because of the retention wall constructed, the water will hit the retention wall, and then go to the other side, and as such cause flood to other residents of the FCT.
We are still in the rainy season. Have they been reports from people living in prone areas?
Our main problems are people within an estate like Trademore. We have already told them that those houses that are marked for demolition, have to relocate to wherever they want to go. But definitely, if additional notice is not going to be given, then they need to make use of the last 48-hour notice earlier given to them. We can only give search commendation for those people who are really sitting on the waterways or by the riverside, or still maybe like fishermen, which we do not have in Abuja, living by the riverside.
In that circumstance, we can now build a hostel for them somewhere, because they have two seasons. Most of them are in the Fishermen's area, and you see them by the river during the rainy season, because that is their own craft, you can't stop them from doing that. In that circumstance, when you foresee danger, you now ask them to relocate to the higher ground and the higher ground must have been built, an evacuation center as a hostel. They move to the higher ground so that when the river flows and goes to wherever it's going, then they can now come back to their fishing.
 Apart from Lokogoma and Trademore, is there any other area in Abuja that can be a bad spot?
Well, we have so many places that are flood-prone areas, but not as devastating as those that are intentionally blocking the waterways. There are natural flood-prone areas and in those natural flood-prone areas, we have put signposts in those places telling people that when they see water there, they should wait for the water to go, because, in that circumstance, it is mostly the flash flooding that is causing the flood around that area, if they wait between five to 15 minutes, at most 30 minutes, the water will go then they can drive through. That is why we now mount the signboard asking people not to drive or walk on the water because it can be very strong and can kill.
Most people that died, it was as a result of that. And that is why we say the authority will not h you not to build on that floodplain. Then there are areas that are noted for flooding. For instance, if you go to Gwagwalada, there are areas in Gondodo that are flood-prone because they are by the water stream that links up. All the waters from here go down to River Niger to discharge, you can see the danger. Lugbe is a waterway down to Giri, Gwagwalada and down to Kogi then goes to discharge in River Niger. You can see the danger.
From the lower Usuma dam, if there is going to be a release of water, there is a waterway that passes through Kubwa and Zuba and gets down to Gwagwalada and to the discharge point. So, all these are on the map and we are now advising that if there is any reason for Usuma dam to release water, we have to work along that way to ensure that there's free flow. And anybody that is on the water will have to evacuate.
 You have enormous work at hand, what is your staff strength like?
Forget about staff strength.
Are you not understaffed?
No, we are not understaffed; let me tell you the secret. I told you earlier that our strength is built on collaborations. We can call you as a journalist. You don't expect me to carry rescue and write reports. So, I call you, the media team, you're part of us. I don't need to have a large or in-house media team. I don't need to have Doctors on the ground, if I need them, I will activate them. If there is a disaster, I will activate all the Doctors I need from hospitals, activate the hospitals to know that I'm bringing in some patients or victims of the disaster, and activate the same hospitals to ask how many bodies they can take in their morgue. I also call on the Police first to comb out the area, the Civil Defence and other security agencies, etc. because for me to work, I need security. That is the beauty of it, all I need is to have a few qualified people that can work hard and then once there is this synergy, we work together.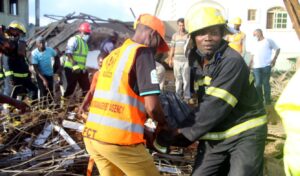 Apart from the conventional awareness, the agency does, how about some other categories of citizens or residents of the FCT that do not follow the conventional aspect of publicity. Is there any approach to reach out to the indigent like some other medium of conveying warnings to them?
Yes. We run our jingles in 5 languages. We run in English, Igbo, Yoruba, Hausa, Gbagi and in some instances we do Pidgin, that is one. Secondly, we do town hall meetings with the traditional rulers in the villages. We project videos of floods that happened near them, show them how devastating it is and then tell them what they should do to avoid them. We don't have problems in the area councils and villages, because they take the early warnings seriously. Thirdly, we have our volunteers in all these localities, who speak the dialect of those people, we train and give them what is supposed to be guiding them and then we have vanguards and we incorporate them into our own response team, the local divers. The local divers are critical just like fishermen. We also have the belief that we cannot be everywhere we need to be, but these local divers, are everywhere in the communities. So, we recruit, train and give them modern tools to work with. Most of them use calabash and Jerri cans to swim in the water to carry out rescues but we have to give them life boards, and modern tools to show them and train them. We have qualified water engineers/personnel training them annually on how to carry out a rescue. We are planning one now, very soon we will invite you for that. We also have collaboration and synergy, a signed MOU with Jabi lake club because they have modern tools, technologies and rescue equipment that are powered. We deployed them during the Galadimawa Roundabout water incident.
The essence of that is that if I buy a speed boat, where will I keep it. But Jabi Lake club has a speed boat and they are using it often, so I had to go into agreement with them, to ensure that when I need their equipment, I can get them. The same goes for the excavator, where do I park it. Even if I pack it and for one year there is no building collapse, the day you might finally need to use it, it will malfunction. The construction companies are using it daily, so I enter into an agreement with them. The same goes for Air ambulance and other services, that is how the coordination comes in. All you need to do is to make sure that you didn't leave any opening or gap, such that whatever you need, you get professionals and personnel to handle it.
 In terms of response to disaster alertness, how effective or responsive is FEMA?
I'm glad to inform you that recently, there was a recall exercise organized by the office of the National Security Adviser. All the responders within Abuja, just as you are, that office can activate you notifying you that there are terrorists around the metro station, so, you quickly take your men and move to the location. Yesterday we received a call that there is a terrorist activity going on in that area. FEMA was the first responder to arrive at that scene. Our response time is 5mins from anywhere you are. If you call us, within 5mins we should be there.
If yours is five minutes, how about the Police and Red Cross, is theirs five minutes as well?
I'm more particular about myself because I don't control others. My own presence there will definitely show the kind of work I'm going to do. If I'm there with my team of ambulances, with my rescue team, definitely we will do it. That is why the office of the National Security Advisor insists that we must be proactive, we must be prompt in our response because if we don't, we have a counter-terrorism division and all of us have participated in building that and we have carried out different simulations.
I don't know if you are aware that we have had one at Ceddi plaza, one at International Conference Center, at Jabi Shoprite, all these were simulated, even when we had the incident of the mall attack in Nairobi Kenya. We carried out a simulation when we heard it in case it happened in Nigeria at the shopping mall, how do we respond? We also had one at the metro station just in case terrorists attacked the train station, how do we respond, and similarly yesterday we had one. The response time is so encouraging but we will continue to improve.
Improving the response time depends on so many factors because you need to have a lot of things. One major thing you need is how to get the report on time. Citizens and the residents can report any act of emergency terrorism on time, we have to respond on time. Secondly, the people who are supposed to give you access to the road, because, by the time, you have the right of way to respond, but in this country, you find out that when you put on your siren that is when somebody will spread his tentacles to block you. Thirdly, we also need to have well-equipped and serviceable vehicles, not in a situation whereby you're moving and its stopping. It involves money and investment is not in futility. The government needs to put in money to ensure that all the responders must be well equipped.
I was at Ebeano when the fire broke out, and the Fire Service came but they had no water in their tank. They had to go back.
You are blaming the Fire Service, right? Why didn't you blame Ebeano because it is supposed to have water hydrants within the premises? Does it have? No.
So where do you expect Fire Service to get water, they had to leave the area to find one. When we had a fire incident in Next Cash and Carry, did you see any Fire Service go out? Because there are hydrants there; It is expected that when you have a premise like that, you must put all the fire defenses around for your own good and safety; it is part of the requirements. If you don't, when the Fire Service comes without water, they will go out to recharge, so if the fire is at Lugbe and there is no hydrant, they will have to come back to town to get water before going back to Lugbe, probably, the fire will be waiting for them to go and come back. We don't take things seriously, that's our problem. You invest money but you don't put safety measures.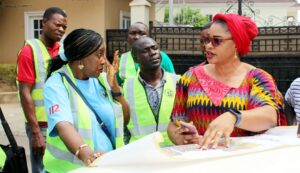 That's where the sensitization comes in.
It is not sensitization. People are cutting corners. If you come for approval, they will give you the paper indicating the things you must have. If you have a filling station, they will tell you that you must have a toilet, if you don't have it, you will not be given license. You see, a toilet is one of the safety measures, if you don't have a toilet, they will insist you have all the fire hydrants such as the fire extinguisher, sand in the bucket stationed by each pump, you must put the No-Smoking notice boldly around the area, but when they leave, they forget about it. *
Still, on funding, have you had any cause to give incentives to disaster victims in any way? Has the agency visited some of our IDP camps to give some sort of incentive?
So many times. We have given the IDPs a lot and will continue to give them. We give them free medical care. The IDPs are taking free medical services at Asokoro and Wuse hospitals and Women with pregnancy. We also enroll the children in public schools.
Apart from that, we have also trained their parents on skills acquisition in conjunction with JYKA, we give them starter packs and we have even given them certificates of training. As we speak, we have also concluded an arrangement for JYKA to train them on soap making, we have trained them on Rice Padding and another trade-like handwash which they have been producing. And at the end of everyone, we give them starter packs. Other aspects also, if we have disaster victims in the hospitals, we visit them regularly; we also solicit blood if they need one. During the last International Volunteers Day, for last year we had donated blood to victims, unidentified victims and patients that required blood. It was at the Wuse hospital that we had the event and many people donated. So, we do a lot. After rescuing the victims from the disaster, we don't leave them. This is where the M&E continues with a follow-up until they have recovered and gotten the best of treatment. In almost all cases, we take charge of the bill.
Let's talk about the welfare of your staff. As an insurance man, are their lives insured?
Yes. Everybody has group life insurance and incidentally, it's a statutory requirement, we can't escape. It's a requirement that has to be done; it is tied to the pension scheme, so you must have group life insurance.  I am also working to see an added value to the staff, which is going to have a little bit of monetary aspect. I am working towards it, if my Honourable Minister approves that, it means that they are going to have a second layer of the coverage, apart from the group life that they are enjoying. I want to see that I give them good personal accident insurance, which is a 24-hour coverage that will give cover to all the staff irrespective of whether they are at work or at home, that will give you medical care to some extent repatriation. In case you need to be repatriated for additional medical attention outside the country, it can take care of that. Also, there is what is called temporary disability. If the government is paying you a salary while you're sick, the salary will be paid back to the government. Then there is a permanent disability. Like me, I have a permanent disability, this is a mark if probably I got it as a result of my work, and there is a rate for it that will be compensated. I will be compensated for this permanent disability.
 At a go or yearly?
No, at a go. The insurance agreement is yearly, so it's during that period that you will be compensated. My staff even because of the activities of mob action, sometimes they go on a rescue mission and get attacked, so we need to get that so we can cover them.
Is there anything you're doing to push some of these to NASS for approval in regards to the safety of the staff?
NASS has lots of laws. You will be surprised if you see lots of them coming out that have been passed by them. Ask even the legislature, maybe they don't even go through the files of laws they passed, and sometimes you will see duplications. We have an Institute of Safety that has an act that is supposed to train all those in charge like Fire Service, filling stations and all the agencies and institutions concerned with safety, it is their own responsibility and that law was passed since 2014 and we didn't hear anything about it. And the domicile ministry is the Ministry of Labour. The ministry is supposed to bring out that law and make sure that every ministry key into that for safety officers to be trained. You go to organisations, there are no safety officers and if there are no safety officers the safety of the staff is not really taken care of. The laws are there, the only thing is that we struggle to get the law and we keep it.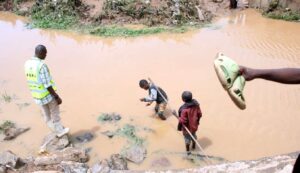 What is your working philosophy?
My working philosophy is to ensure that we match our mandate with action and that everybody should know the kind of work he or she is doing. That is very important, because if you don't know why you are here, then you have no business being here. That is why I always try as much as possible to carry my staff along to let them understand the concept of the work because if you don't train them to know the job, you can't accuse them of not doing the job. That is why we give training to that level and then we emphasize that if I show you today, and again tomorrow and you are not able to do it, I will not be happy if you don't do what you are supposed to do.
I'm happy to report to you that my staff are enjoying the work because they are learning and I always tell them that this is not the ultimate for them. They can find themselves elsewhere and there could be challenges. And wherever they go, if they think that they are cheating the government, they are cheating themselves because somebody can come and pick them and say we need them at the international agency and when they get there, and they cannot perform, that will be very shameful and an omen for them. That is why I always say when they are working, they should always do that to the best of their knowledge and learn. Whenever they get the opportunity to learn, they should learn because when they are going, we collect everything including the ID card, but the knowledge they have acquired is there. They will go with their knowledge. Knowledge is a lost-but-found property; it is only the wise that can pick it. So, when you see knowledge, pick it. It is going to work for you and when you see a book, read it, if it doesn't work for you today, it will work for you tomorrow. But most times, people conclude that this book or that one is not relevant to them.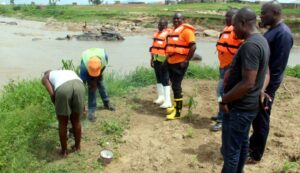 One word for developers and the residents in Abuja.
For information on the developers, we are bringing them into our own forum now.  Like we said earlier, we have not brought them, but we are intending to, as stakeholders. We also want to collaborate with them and build their resilience, we believe that if you believe in your own environment, you will be able to protect it and build your own. If you are able to know the kind of hazard, that is existing in your environment, you will be cautious and able to handle the situation. So, we are bringing them in as stakeholders, we will train them, and we will build their resilience and their response plan.
We want every estate to have its own response plan and manage by the resident association of that estate so that they will know how to take care of the security of their own area, and take care of those natural hazards. Don't allow anyone to dump refuse in the waterways to block the drainage. We have gone round some of the estates and discovered that the drains are blocked with gravel; somebody wants to have access to take sand to his own side, so he blocks the drainage. These are some of the things the resident association of the estates will take care of before we come. We will also expand our volunteerism to professionals like big men in the estate who can also be part of us and then we will now get it right. So, if you own the environment, the climate change negativity will not change or take over. Secondly, generally on the resident, I'm appealing to them to take the early warning we issued out very seriously. There are two federal agencies that give us early warning that we build our own. The first is the Nigerian Metrological Agency of Nigeria, who is going to give you the climate position for the year and give the rain patterns as well. They have given to say they are expecting rain during certain periods and the volume of water. The Nigeria Hydrological Services Agency will now come out with the flood outlook to tell you places where there will be floods. This is the map for the 2022 probable flood risk. The areas marked red are the highly probable and the other probable. If you look at FCT, we are having Gwagwalada and Municipal Area Council as highly probable, the rest are probable. This is what we are working with to ensure that we talk to the residents of the FCT. Our team is working to discover the exact area in Gwagwalada and Municipal Area Council, so we can put them to what we have and then advise accordingly.