OUR VISION IS TO CREATE COMMUNITY OF AI DEVELOPERS – DG NITDA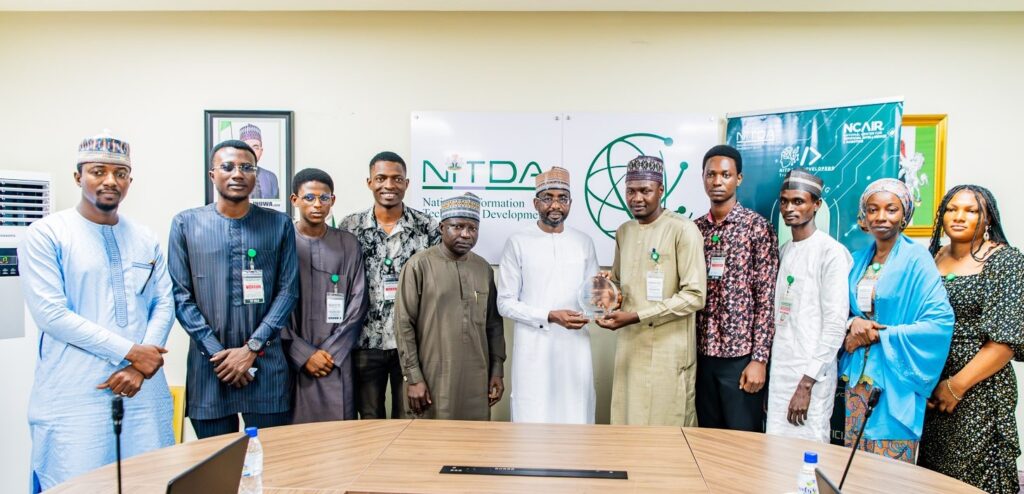 In a bold move towards shaping the future of technology, the Director-General, National Information Technology Development Agency (NITDA), Kashifu Inuwa, has said that NITDA has an ambitious vision to produce a thriving community of Artificial Intelligence (AI) developers in the country.
Inuwa revealed this while receiving instructors and some beneficiaries of NITDA AI Developers Training (NAIDT) who were on a thank-you visit to the Agency's Headquarters in Abuja to present to him an award for his outstanding dedication and immense support for the training project.
The training organised by NITDA, through National Centre for Artificial Intelligence and Robotics (NCAIR), in conjunction with Google Developers Group (GDG), has created instructors, startups, and secured job opportunities for participants. The programme recorded 1,227 beneficiaries across 10 Cohorts that underwent a series of coaching and lectures to develop programming skills in Artificial Intelligence and Machine Learning.
Inuwa noted that the Agency has achieved what it set out to do during the pilot project in Abuja, and will be extended to other states. According to him, the vision is to create a community of developers around the country where people can come and learn, and after that, they can teach others or start their businesses and impact society.
"I believe we can start with three states this year, then strategize on how we can take it to other states and; with time, extend it to local governments. because This is driven by my firm belief that in Nigeria, our most valuable asset as a nation is our human capital."
"I want to know how many people participated, and how many females, to ensure gender balance, and I want to know who and who have started businesses from this training and who and who are making money. This will help us to mentor others because the idea is not just to train people but after training, to connect them with jobs or to inspire and mentor them to start their own businesses."
He added that the NAIDT platform can be used to create indigenous super apps like generative AI and language modelling, then a Proof-of-Concept (POC), can be done with NITDA and then escalated government-wide.
"This is because the government is also pushing for digitisation. Digitising government services will help the government save a lot of costs as well as improve the efficiency of service delivery."
In his earlier remarks, the National Director of NCAIR, Engr. Ya'u Garba, conveyed that the project originated from a directive by the DG a year ago. The directive was to initiate the training of one million developers under the theme: Learn, Teach, and Earn. He further noted that the DG has generously provided honorariums on a monthly basis to each cohort participating in the program.
Engr. Garba revealed that there were three levels of training: Basic, Intermediate, and Advanced.
He said, "In the basics, we teach them what is necessary to become a good programmer, so we teach them Python; of course, you know Python is the language science. After that, most of them come back for the intermediate, where they are equipped with the necessary skills to start their journey in the IT world. Then we have the advance, which is problem-based for people that want to move forward."
A representative of the Google Developers Group (GDG), Mr. Ibrahim Bright Muhammed, appreciated the DG and NITDA for their unwavering support throughout the training programme, adding that "the environment is very conducive, with very good internet."
The beneficiaries who shared their experiences expressed gratitude to NITDA for the valuable opportunity that has greatly enriched their lives through the programme. Among them, a number have transitioned from being trainees to becoming trainers themselves. This shift not only instills a sense of achievement in them but also provides them with the satisfaction of witnessing those they've mentored effectively applying the knowledge they imparted.