Posterity Will Be Kind To Ikpeazu For His Giant Strides In Abia, Says Ememanka
With a pedigree that robustly identifies him as a top flyer both in academics and work places, Sir Onyebuchi Ememanka; a Barrister and Solicitor of the Supreme Court of Nigeria, currently occupying the office of the Chief Press Secretary to the Abia State Governor, Dr. Okezie Ikpeazu, has shown that the love for one's fatherland can easily outweigh some other lofty ambitions. This, he has exhibited by resigning from his top notch employment in Lagos to join a Governor whose main interest is to wholesomely bring democratic dividends home to his people.  In this interview with IKECHI ENWEREJI, the Chief Press Secretary throws more light on the man Okezie Ikpeazu and his determination to turn Abia into a model state. Excerpt: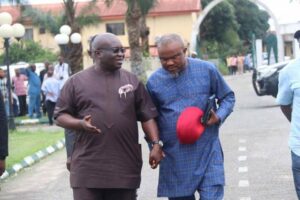 You indicated interest in 2018 to contest for the Federal House of Representatives on the auspice of the PDP, but during the party primaries you could not make it. What really transpired?
Well, I take it that it was not my time. The party hierarchy felt that it was not my time and I accepted it in good faith. It is something that I would rather not talk about, because as spokesman of the Governor; whatever I say carries a lot of weight. I accept what happened that time as the will of God. I believe in God's timing. My interpretation is that, it was not my time because if it was my time everything was in place for me to grab the ticket but because it was not my time, it happened the way it did. I accepted it in the good spirit of sportsmanship.
Generally, I am fine as I am in government. I even believe that the position I occupy now has given me more mileage, so I accept it as God's plan for me. I harbor no bitterness just as I have come to realize that; one plus one is not always equal to two in politics. I have come to terms with it and have accepted it as it is. Life goes on.
What inspired you to go into politics and abandon your law practice?
Many things inspired me but principally, my main motivation was this man called, Dr. Okezie Ikpeazu. I felt and still feel that he is a man on a divine mission. As an Ngwa man; I joined the clamour for Ngwa governor right from my work place in Lagos then. When Dr. Ikpeazu emerged, I was invited to come and moderate his first official outing as an aspirant not even as a candidate. By that time they have not done the PDP primaries. They invited me to moderate the event at Taminus Hotels.  I came reluctantly but in the cause of the programme, I listened to the man speak for the first time and I am a man who is attracted to intelligence.  I saw the man as very brilliant.  Then something in me told me that he was going to be the governor and would change the developmental trajectory of our state. I was still working in Lagos even after the elections. I did not vote here, I was in Lagos then. When he assumed office, I could not resist the pull I had inside of me and I had to resign my job, came back and joined his government.
You worked with Samsung and suddenly disengaged; but allegations are that you were forcefully disengaged. How true is this statement?
This is not the first time this question is coming up. I joined Samsung Heavy Industries in September 2013. Prior to that time, I worked as a Legal Officer in North West Petroleum & Gas from January 2010 to August 2013. I attended interviews and was selected by Samsung Heavy Industries to work as Manager in charge of Legal and Regulatory Services in September 2013 and by September 2014, I was promoted to Company Secretary/Legal Adviser.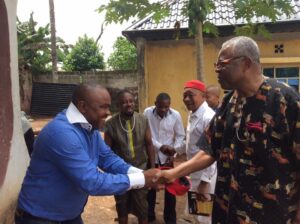 Samsung Heavy Industries is a multinational firm handling huge contracts in Nigeria. As at that time they were handling a 3.4 Billion Dollar Gina Oil field development project for the construction of a Gina FPSO. So from 2014, I was Company Secretary to Samsung; a job that exposed me to a lot of things both locally and internationally.
As head of legal, I was on the Board as Company Secretary.  I would have even left Samsung by 2015.   When I came back for Christmas in 2015 I almost did not want to go back to Lagos as I had developed some personal relationship with the Governor. However, I returned to Lagos to stay another one year before I could finally relocate to Abia.  When I told the Governor about my plans to return to Abia, he was a bit skeptical and asked me how could I leave that kind of big job in Lagos. I told him I wanted to follow the dictates of my heart.
So, by January 2016, I started making plans to come back home. I abandoned the house I was building in Lagos and started sending money home to complete the house project at home. I am from Umule, Osisioma Ngwa. So, by November 16, 2016, I tendered my one month notice of resignation which meant I would work for month before disengaging. By then several meetings and consultations were going on in Samsung and in fact, I was invited by the Managing Director of the company. He asked me why did I want to leave? In fact, they felt I wanted to join another Korean company called Hyundai because we had attended a meeting together at NAPIMS, an agency of NNPC and I made presentations on behalf of Samsung.
The Hyundai people were there and so impressed. Thereafter, they started talking to me and all that. So, my company felt I wanted to join Hyundai and they actually asked me to tell how much Hyundai was offering me, that they would match it. And this was a job I was earning very fat salary; I was well paid and I was very comfortable. The Global Vice President, Human Resources also spoke to me. The Principal Lawyer, a Korean, and so many senior management staff of Samsung called me severally and did everything to stop me from resigning. My family, my wife and everybody around also discouraged me from resigning from the job. The job came with a lot of welfare packages for the family, but I was insistent.
So, December 16, was my last day at Samsung. I went to work that day to tidy up my office and submit the necessary handover notes and properties in my possession. By December 18, I was back home with my family.
I need to say that I earlier practiced Law at Aba before I left to Abuja in September 2009 to work with a law firm called A&E Partnership. For the time I relocated to Abuja and Lagos, my law firm in Aba was ongoing even up till now.  It is still functioning. I simply relocated it from 87 Azikiwe Road to Aba-Owerri Road, Tonimas House by Umuatako, even some lawyers are there working.
By December 25, on Christmas day I had a thanksgiving service at St. Augustine's Anglican Church, Umule, my home church. The governor, Dr. Okezie Ikpeazu, came in person; so many people from the government circle honoured my invitation. By the time I was relocating to Abia, there was no agreement between the governor and me as to how I would be engaged or what to do, but I was so confident. In fact, the other day I was discussing with him and he asked me, my friend what gave you the courage to leave your job and came home? I told him that, I was confident that there was no how I would come home with my family and he would leave me just like that.
I thought he was going to come home with us to my house after the service in the church.  Having a personality like the governor as a guest, one must prepare to entertain him very well but incidentally, he told me that he would not come to the house as he had other engagements as well. Meanwhile, he was in the service from the beginning to the end. So, the next day I went to thank him for honouring my invitation. It was there that he asked me, my plan for this "home-coming?" I told him that I wanted to have a month rest,  put my children in school because the issue of school was a very big problem between my wife and I. My wife never agreed for us to come back home.
Then the governor said to me that "there is no rest in the world" that he had already told them to prepare a letter of appointment for me.  That I should go to Office at Government House on Monday to collect my letter and that was during the festive period. He said effective January 2017, that I would start work as a Special Adviser on Public Communications. That was how I started work in January 2017 and I did that job up to the time I came out to run for House of Representatives under the platform of Peoples Democratic Party (PDP).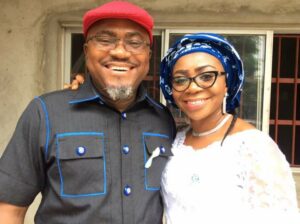 When that phase passed, we entered the election period and I was named the Director of Media, Information and Communications, Abia State PDP Central Campaign Council. From there, I managed the media of the party for the elections, Governorship; House of Assembly including that of the man who eventually entered the House of Representatives. We traversed the entire state and all the local governments. After the swearing-in of the Governor on May 29, 2019, by June 5, I was made the Chief Press Secretary to the Governor.
So, there is absolutely no truth that I left Samsung on questionable conditions. I duly resigned and the company did everything to stop me from resigning. In fact, I remember, about three years ago, at night like this, I was going to Umuahia, at Obikabia Junction; I received a call from Mr. Jeje John, a Korean, as at the time I was in Samsung he was the Head of Business Development. He had gone to Korea and come back to Nigeria as the Managing Director. He called me and I had to pack my vehicle. I was with my Personal Assistant, Udeze. He said, Onyebuchi, I want you to come back to Samsung, that up to that moment they had not replaced me and my office was still vacant. I told him that I was back to my home state for good.
So, how could somebody allegedly sacked be receiving calls to come back to take the job again?  Imagine such mischievous allegation. In all humility, I am a top performer, a high flyer.  I have always been and by the grace of God I will always be.  In academics, I am a top performer; from my primary school to the university level, I had remained on top.
Do you perceive your coming home as a threat to some political figures in the state?
I do not know. Those who feel threatened will be in a better position to say it. I just came back to play my own part. You see, I am an Ngwa man to the core. When Okezie Ikpeazu was elected Governor, I became agitated and asked myself, would I be in Lagos in 30 to 40 years to come, if and when the success story of first Ngwa Governor is told, would I not be mentioned? It was that thing that pushed me.  I wanted to be part of history. Any serious Ngwa man would know the name, Dr. George Nwaigwe, the father of modern Ngwa nationalism. He is from our place, Umule; he is actually my uncle. It was from the man that I learnt the rudiment of Ngwa nationalism. So, Ngwa issues entered my blood very early in life because of that man.
I have a huge presence on social media and I used that mileage to promote myself and what I stand for. I did not know Governor Okezie Ikpeazu from anywhere. As at 2014 I had not met him before. In fact, we met by chance some time in 2014 through my old friend and room-mate in the University;  Iyke Aaron Nwalo . It was him who introduced Dr. Ikpeazu when I met both of them on my way from City Global Hotel where I had gone to deliver a document to a client. When he was introduced to me as our brother from Ngwa, I greeted him in our Ngwa language (Dede, Mazi o….), then I left because it was late. That was the first time I saw Dr. Ikpeazu in my life. That greeting did not last more than one minute.
He later got to know me through the quality of articles I was writing. I must say in all humility that when you look at the person writing, you will know that he was comfortable and not because he was hungry. People would copy my articles and send to him by sharing it on different social media platforms. Even the Ngwa people in Diaspora; so the thing popularized my name further. In fact, I was in my office at Samsung in Victoria Island, Lagos, when my very good friend, Erondu, called me and said I should hold on for Governor. I said which governor kwa? He said, Governor Okezie Ikpeazu. I said, hello sir, and he said my name is Okezie Ikpeazu; I shouted Your Excellency sir; then he responded and said, leave that title, let us talk like brothers we are. That was it. I did not know him before. That was how the relationship started.
Without sounding immodest, may I say that I have established a pedigree of excellence by the grace of God. When I was in school I was the best graduating law student and was the sole representative of Abia State University at the 7th All African Moot Court of South Africa.  The books I won as prizes are still at the Law Library till today. I hold a Masters degree in Maritime Law and a Professional Certificate from Nigeria Institute of Journalism in Lagos before I came back. Both in my practice as a Lawyer here in Aba, I worked at Motex Petroleum and Samsung. I maintain excellent records; I am a prolific writer and public speaker. The only thing is that my present job is too tight that is why my public speaking appearance seems on hold. Those days when I was in Aba, I used to moderate heavy functions.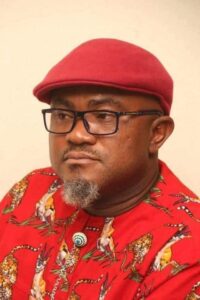 Few months after the election of T. A. Orji as governor, there was a grand breaking of Geometric Power at Osisioma, I was the master of ceremony that day and I was heavily paid for it. You know that kind of big event that had in attendance high profile personalities from all works of life and politics. So, over the years, I have been used to such things. I did my Youth Service at the Nigerian Law School after graduating from the Law School, Enugu, and the record I set there has not been broken up till today. I was the first ever Law Youth Corper to be sent to lecture law students in the Law School. I thought Civil Procedures at the Nigerian School, Enugu Campus. I was called to the Bar in 2003. I lectured my school mate we graduated together from school but due to one reason or the other they could not enter law school with me then. You cannot teach in the Law School if you are a dunce. It is a place of high intellectualism.
Back in the days at Ngwa High School, I was Editor of our Press Club. My friends who knew me from secondary school and university days are not surprised at all of what I have become by the special grace of God.
Naturally, when that kind of person comes into an environment certain persons would become very uncomfortable especially with what happened when I contested for the House of Representatives. People were shocked; it was like a revolution. I have never been in politics or practiced before; it was when I came back that I registered as a party member and that is all. I have never gone to party meetings in my life but one thing about me is that, I am people-oriented and by the special grace of God I am a philanthropist; I have really impacted so many lives within my capacity. It is part of me. When I said I was going to contest for House of Reps, I had overwhelming support.
As somebody who has worked closely with Governor Ikpeazu, how would you assess his performance so far in office?
I do not think that is a fair question because he is my boss.   There is nobody who would say that his mother's soup is not delicious. Governor Ikpeazu's report card is there for everybody to see.  If you check how Aba was before 2015 when Ikpeazu assumed office, there was no single motor-able road. You said you are from Umuola, right? Your place was no go area.  We used to go to Barrister Emeka Nwaogu;  that area was out of this world. That is why I said it is an unfair question because the results of his administration are there for you to see. Look at Aba today you can be proud to say you live in Aba.
The other day we toured round Aba from Emelogu to Ngwa Road and to Port Harcourt Road. As we are talking, construction work has started in that environment. By the time this adjourning roads are completed, somebody coming from Ogbor-Hill/Opobo Junction who want to go to Port Harcourt will not have any business passing through town; he will simply enter Emelogu to Ngwa Road connect to Port Harcourt Road and off he goes.
These were things that were unthinkable seven to eight years ago. Look at Osusu, Milverton, Ojike Lane, Eziukwu, and right now the second phase of Eziukwu completed and waiting for commissioning. From No. 1 Okigwe Road to  No. 1 Azikiwe Road is completed and what is left is just to mark them. The last phase is from No.1 Azikiwe to Cemetery Market and Ikpeazu will deliver that road before he leaves office. Look at Aba Owerri Road, Faulks Road and Ama Ikonne is history; Ifeobara, Ukwu Mango, nobody remembers the gory state of those environment again. So, it is there for everybody to see.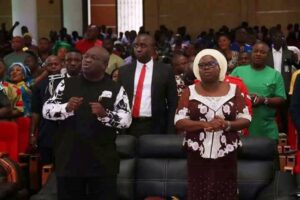 Ikpeazu has completely instituted a comprehensive paradigm change in development in Abia State and he is a man that will enjoy the goodwill of posterity. He has not done everything and he never said he will do everything. No leader or government in this world can do everything even if he has all the resources in the world. So for him to have done all these with the paucity of funds, with the cash flow challenges he has been facing and he is able to manage the resources and put things in place, he has really done well.
How will you describe Ikpeazu's leadership style with his staff and his central executive council members?
You know, I am one of the closets by virtue of my job. Ikpeazu is a man who has demystified the paraphernalia of governance. He has made the office of the governor very simple by turning down completely the veil of officialdom around the office of the governor. He is easily the most accessible; his convoy is the smallest. He relates with his workers on one-on-one basis. We crack jokes together when he is in his element. At times I ask myself, is it really governor that I am talking with like this? He is so unassuming, down to earth, so humble and probably because of his parentage and upbringing. His family was not the wealthy type. There is a proverb he usually gives, "No one should allow the taste of fresh fish to dry in his mouth" because if you leave office and things turnaround, at least you should remember your regular taste of fresh fish.
Ikpeazu loves his people and he likes to spend more time in Aba rather than Umuahia which is the state capital. He said, as the first Ngwa Governor, he carries the burden of history. The Ngwa people has never been governor, that if he stays in Umuahia more, our people will not have access to him as it should be. That is why he spends more time in Aba to oversee the ongoing projects and for people to access him with ease. I have never seen a governor as simple as Ikpeazu.  He gets involved in people's personal life as he wants to know how one's family is doing. So working with him has been an absolute pleasure. And I thank God I took the decision and come back; it is a decision that has paid off. I could not have imagined not coming back.
What is your advice to Abians especially the Ngwa indigenes who join forces to criticize their governor?
We are in a democracy and people have their rights to belong to any school of thought that catches their fancy. Ikpeazu is a second term governor who is gradually rounding up his assignment in government house. There is nothing anybody can do to him now through unwarranted criticisms. Those criticizing him unjustly are wasting their time.  Everything is in the hand of God. There is nothing any human being can do to him. So the only option left is to support the government. The evidence is there to show that this man means well for our people.
Our people should therefore pray for him, wish him well and support his government in every ramification. Even though I do not like sounding clannish and all that, the fact is that, Ikpeazu is the first Ngwa man to be governor; he is making us proud already. People should support him more since his mind is focused on developing our state more. He does not want to entertain anything that will distract his attention off development.
Posterity Will Be Kind To Ikpeazu For His Giant Strides In Abia, Says Ememanka