By Okosun Dennis
As aspirants into various political offices are perfecting strategies to win the hearts of the electorates, and brighten their chances of being elected, the Social Democratic Party (SDP) candidate to the Edo State House of Assembly (EDHA), Barr. Godwin Oseghale Ovu has paid a courtesy visit to the Onojie of Urohi Kingdom, His Royal Majesty, Dominic Uwuigbowen, Otokhine 1, the Onojie of Urohi Kingdom in his Palace at Eguare-Urohi.
Contesting in Esan West Constituency, representing Ward 8, into the EDHA in the forthcoming 2023 General election, he was accompanied on the visit on Monday by party Stewart and elders of the community which included: Elder Efosa Ovu; Mr. Sunday Omokhodion; Mr. Tony Green; Mr. Victor and Mr. Iluobe Obue among others.
Receiving Barr. Ovu in his Palace with warmth, HRH Otokhine 1 expressed heartfelt gratitude to Mr. Ovu for paying him a courtesy visit especially deeming it necessary to seek his Royal and fatherly blessings in his determination to represent Esan West Constituency and as an indigene of Urohi community in the Edo State House of Assembly in 2023.
While praying for his successes in the election, he called on the ancestors to grant him his heart's desires and victory during the elections.
"May you succeed in your political career and the Lord grant you your heart desires. I speak as the King of this land, All the ancestors of this land will fight for you; any evil project or eyes against you will be cut short."
In his response, the SDP candidate, Barr. Ovu thanked the Royal Majesty for his prayers and accepted him as his own son of the land.
"I am eternally grateful for your warm reception accorded me and my family members who visited the Palace to formally notify you of my political journey to the Edo State House of Assembly.
"You have been my inspirational leader, a role model, and motivator and I will remain ever grateful for your steadfastness, growth, and development in Urohi Kingdom," he reiterated.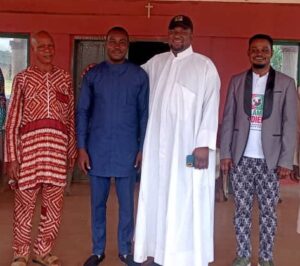 He promised to make effective use of the opportunity if elected to attract massive development to Urohi Kingdom, considering that in the time past and under successive administrations, not very much has been done for the kingdom in the area of social infrastructural developments of Urohi Kingdom.
In the same breath, Ovu reminded the people of the community who are yet to register to do so and collect their Personal Voter's Card (PVC) as it remains a veritable instrument that brings political development to any community by exercising their franchise.
Esan West Constituency consists of 10 Wards which included Urohi, Ekpoma, and Iruekpen all in Esan West Local Government Area of Edo State.