By Okosun Dennis
The Chief of Naval Staff (CNS) Vice Admiral Awwal Zubairu Gambo said in Lagos on Tuesday that the proactive steps taken by the force has saved Nigeria enormous resources from the hands of maritime criminals who have resorted to the different style of operations to sabotage the economy of the country.
In a keynote address delivered at the 10th edition of the Securex West Africa organised by Montgomery Group Afrocet at the Landmarks Event Centre, Victoria Island, he said various operations launched by the force such as Operations Tsare Teku and DAKATAR Da Barawo led to the deactivation of 51 illegal refining sites, crushing of 563 metal storage tanks and the destruction of 341 dug out pits.
In addition, he explained, the criminals were denied about 17,793,432 litres of stolen crude oil, 5, 490, 670 litres of refined AGO and 129,000 litres of DPK worth over N10.7 billion.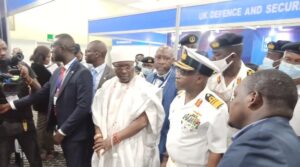 Admiral Gambo noted that the focus was to align with providing strategic solutions for protecting critical national infrastructure, utilities and identifying key solutions for Nigeria's transition to smart and future capability.
To this end, he explained that global commerce remains a veritable medium for sustained growth, development and prosperity hence the Gulf of Guinea (GoG) is among the strategic sea lanes to the global economy because of the enormous potential in hydrocarbon, fisheries and mineral resources and exploration.
While living nobody in doubt with the statistical representation of Naval successes, the CNS buttressing naval success story with video clips of the Navy's operations and activities, observed that the Nigerian Navy's swift response to illegal activities at sea has led to a reduced rate of successful attacks in Nigerian domain.
He said, "Unfortunately, recent observations have revealed the transnational nature and migrations trends of these criminals, especially pirates.
"Many pirates and kidnappings are now being perpetrated in the neighbouring countries and as far as 100-200 nautical miles off the coast. It becomes necessary to extend Nigerian Navy anti-piracy operations to neighbouring nations' waters. This places a huge burden on Nigeria and particularly the Navy as more ships and logistics are required for these extended patrols.
No doubt, Admiral Gambo reiterated that the force has been very consistent in its efforts at checking maritime malfeasances as the lead security agency responsible for the maritime environment, the Navy has made a tremendous breakthrough at curtaining these maritime threats.
Such efforts were made possible as the service has continued to refine its procedures, strategy operations, concepts and doctrinal processes.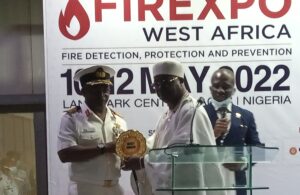 In that vein, Vice Admiral Gambo stated that Nigerian waters have steadily witnessed a decline in pirate attacks hence seafarers have found Nigerian Exclusive Economic Zone safe for their business and maritime activities.  "Only 11 cases of pirate attacks and three sea robberies were recorded in 2021 compared to 22 pirate incidents and 16 sea robberies in 2020."
While outlining some of the challenges confronting the Navy, among other things, the CNS added that "The stealing of crude oil which runs into several billions of dollars imposes a huge challenge on the Nigerian Navy to protect critical Infrastructure within the Nigerian environment as well as to tackle all forms of maritime crimes.
"Insecurity within the maritime domain, unemployment in the coastal communities manifest in the attack of shipping, sabotage of Infrastructure and maritime theft. There are also devise forms of illicit trafficking, unreported illegal fishing including illegal sea mining as well as unauthorized and illegal hydrographic surveys and oceanographic research.
He commended other Security agencies like the NSCDC, Customs, and NDLEA collaborative efforts, which has led to the arrest and prosecution of several vessels. In addition, the cordial relationship with International Police (Interpol) have been of immense importance to the force.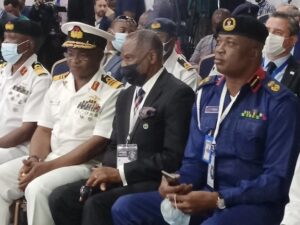 Essentially, a Memorandum of Understanding for combined patrol with navies of ECOWAS Zone E comprising the Benin Republic, Togo and Niger have been pivotal in its campaign against maritime criminals.
Earlier in his welcome address, the Regional Director, Afrocet Montgomery, George Pearson said Securex West Africa has been serving the security and affiliated communities since its launch in 2010 and has become one of the leading and most recognised platforms for exhibitors looking to network and do business in the region.
Securex West Africa is the largest exhibition and conference for the security, safety, fire and facilities management sectors. It is a famous arena to discuss security and an avenue to deepen knowledge and innovation in security management.
Other keynote speakers included the Commandant General, Nigerian Security and Civil Defence Corps (NSCDC), Dr Ahmed Abubakar Audi who was represented by the Lagos State Commandant, Eweka Edenabu Okoro; the Lagos State Commissioner of Police, CP Abiodun Alabi, who was also represented by CSPTaiwo Oyewale, Divisional Police Officer, Bar Beach Police Station.
Others were the British Deputy High Commissioner, Afrocet Montgomery, Ben Liewellyn-Jones as well as the Group Managing Director of Halogen Group, Mr Wale Olaoye
The CNS, Vice Admiral Awwal Zubairu Gambo was later conducted round the various exhibition stands.
The three-day exhibition which began on Tuesday will be rounded off on May 12, 2022.