Yesterday, the umbrella body of online media influencers and bloggers in Abia State unanimously nominated Ugonwanyi ndi Igbo as Abia Human Resources Personality of the Year.
According to the press release made public by the Abia Online Media Publishers, they said that having scrutinized the unassailable track records of the enigma that they have approved the nomination of Senator Nkechi Nwaogu as a testimony of her unrelenting determination in harnessing the economic potentials of our youth which have gone a long way in ameliorating the inevitable social problems like hunger, starvation, unemployment and crime.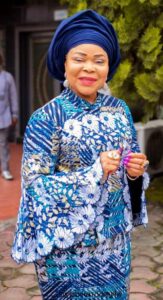 The Financial Supremo and Chief Executive Officer of Libra Investment who we know is an empowerment and employment machine said that whatever people are saying that am doing is a covenant I have made with my God and thanked God Almighty for His kindness and mercy which is the reason for her exploits.
Investiture of Abia Human Resources Personality of the year on the personality of Senator Nkechi Nwaogu Ph.D. CON, Ihie Abia is timely, well deserved and meritorious. One doesn't need a magnifying glass to see what someone is wearing in his or her hand. In the area of Human Resources Development, in the whole of Abia State, Ugonwanyi ndi Igbo who goes with the sobriquet Daa Nkee is a force to reckon with.
The astute parliamentarian, redefined administrator, fiducial financial managing supremo is relentless and undeterred in her quest for the betterment of her younger generation.
Ma, I won't overstress issues because facts are INCONTROVERTIBLE, I am urging you to continue that people are seeing and taking cognizance of your good works. Mummy, our upcoming generation is still looking upon you as a role model and we are also appreciative for the ones that you have done which is prodigious.
Finally, I am using this medium to extend my sincere and hearty congratulations on your well-deserved award which has vindicated your quintessential track record. BRAVO UGONWANYI NDI IGBO!! KUDOS IHIE ABIA, CONGRATULATIONS DAA NKEE.
Onyendi Victor Kelechi is the SA Media and Publicity to Senator Nkechi Nwaogu