By Okosun Dennis
Nigerian Police officers have been told to see themselves as a microcosm of the society as well as an agent of change, and as such, should strive harder not to make avoidable mistakes as they are under constituted authority.
This admonition came from Apostle Kalu Azu, a Convener and Guest Speaker at a One-Day seminar organised for senior officers of the force by Global Rising International.
Speaking on the topic "Police and Stewardship" at the Police Officers' Mess, Lagos Police Command, Ikeja, on Saturday, he called on policemen to improve on their orientation, thinking, attitude and mannerism that would make members of the society see them as a good steward.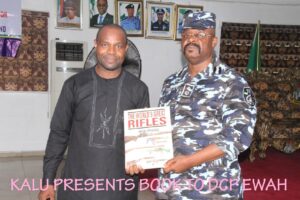 While reiterating that policemen are doing fantastic jobs keeping the peace and ensuring lives and properties are protected despite all odds, he reminded them that "the policeman is like a shock absorber; a burden bearer that carries the burden of others."
As a result, he further expatiated,  they should be tolerant and have the ability to control their emotions despite provocations from the citizenry who, sometimes, see them as not doing enough or may castigate them for acts they considered not appropriate.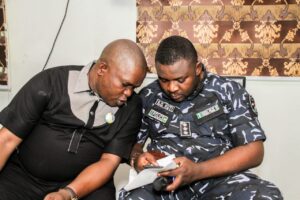 In a separate interview with our correspondent, Apostle Kalu Azu reiterated that the essence of the seminar was to ensure that the police do their job professionally and not oppress people when they come to them.
"When you see a policeman, you know you have seen someone that will help you because they are supposed to be a friend.
"The characters some policemen exude have pushed people away from them and have made some people say bad things about them. Certain things need to change in the lives of a policeman to enhance his performance."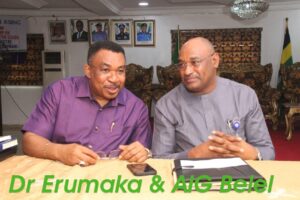 Similarly, the Assistant Inspector General of Police, in charge of Force CID, Alagbon Close, AIG Usman Alhassan Belel, while speaking on Community Policing and Strategies, emphasized partnership with communities for Information, in addition, engage in robust patrol of the areas as their physical presence deter criminals.
He stated that even where there are infractions on the part of policemen, it is not enough to disparage the force as a lot is being done in the area of attitudinal change and reorientation in line with the IGP Usman Alkali Baba prescription.
On the concept of Community Policing, AIG Belel noted that tackling the root causes of crimes is mandatory in community policing and strategies; enjoining officers to visit places and villages where some crimes are committed to carrying out thorough investigations adding that village dwellers would always assist or identify the criminals.
Acknowledging that police style and practices are changing, despite the reactive nature of their duties, they should endeavour to gather information and utilize it for the common good of the society they serve.
On information sharing especially from local communities and members of the public, the AIG tasked the Divisional Police Officers to make emergency functional telephone numbers available to the people for quick accessibility and information dissemination.
"Make the charge room comfortable and appear to complainants and suspects in a friendly manner. Be polite to them rather than being hostile. Partner with the people for prompt information; engage school authorities within your jurisdiction and localities for information as well," AIG Alhassan Belel emphasized.
Bishop Humphrey Erumaka of WorldBase Ministry, Okonta, who lectured on "Police and Leadership", stressed the importance of leadership and the role police play in society.
Breaking down the concept of leadership, he reminded the participants to see themselves as a "Ladder" that is ready to tolerate and take rubbish from the subjects; and be able to "Echo," and portray their organisation in good light and make it attractive to the public adding that their mannerism depicts who they are.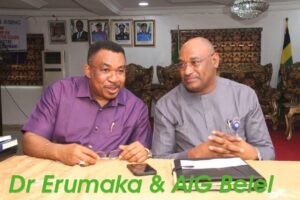 In addition, he reminded the participants to see themselves as "an answer" and not a problem to the organization; while as a "driver," has the potential to drive the masses to their destinations but not to betray people's trust. He urged them to exemplify the traits of an "edifice" that is always constant.
Encouraging the police officers to be avid readers, seekers of knowledge and add value noted that "education tames the bestiality in man" hence they should see themselves as individuals that can help others multiply their "joy and reduce their sorrows."
Unfortunately, he lamented, "when a policeman is frustrated; living in a wrong and dirty environment, he is bastardized inside and doesn't know when he transfers the same aggression to an ordinary citizen," Dr. Erumaka stressed.
Books with different titles on various policing duties, and weapons were donated to the police library and training institution.
The seminar had in attendance Area Commanders, Divisional Police Officers (DPOs), and Heads of departments from the Lagos State Police Command.