'We Keep Our Word' on Customers' Data Safety, Protection – Fidelity Bank's Head of Security – Peter Okoloh
…clinches NAOSNP Corporate Security Personality of the Year
By Okosun Dennis
As Cybercrime and digital data theft is on the rise, the task of data protection has also become heightened. Therefore, Banks have double responsibilities because the data and monies of customers are at stake.
Any bank worthy of its name must take the physical security and data protection of its customers as a frontline obligation. That is the only way to maintain customers' confidence.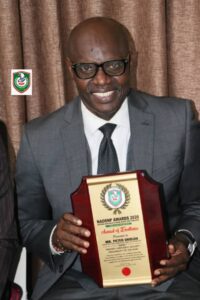 The Head of Security at Fidelity Bank Plc. Mr. Peter Okoloh reiterated the bank's robust strategy on data security while speaking recently as he clinched NAOSNP Corporate Security Personality of the year.
"Fidelity Bank has over the last few years made a lot of investments in ICT tools and constant training of its staff to safeguard the bank and its customers to ensure the safety of financial data.'
Okoloh noted that the recent hacking of the customers' accounts of a Nigerian Bank (Not Fidelity) has further highlighted the need for sophisticated and latest state of the art information technology tools to guard against such occurrences.
'Fidelity Bank has a strong security policy that is enhanced by physical manpower and up-to-date ICT tools. We have ensured full surveillance of the bank's banking halls and premises with the use of elaborate CCTV and physical security personnel.'
"The bank has always given support to SMEs. We know that small and  medium enterprises are the backbone of any economy, hence the bank has consequently supported SMEs through lenders policies and instruments. Providing adequate security becomes priority.'
The seasoned security expert, Peter Okoloh pointed out that as part of ensuring health safety, the bank is also taking seriously the observance of all Covid-19 government guidelines such as social distancing, handwashing and use of masks as the guards ensure that all customers follow the laid-down protocols while staff members are also made to strictly maintain these protocols.
He emphasized Fidelity Bank's commitment to security. 'Fidelity Bank has always supported security agencies in Nigeria with the contribution of at least N50m annually to the Lagos State Security Trust Fund.'
The President of ASIS Chapter 206 of Lagos, which is the world's largest body of security experts and managers, Okoloh was recently awarded by the National Association of Online Security News Publishers, as NAOSNP Corporate Security Personality of the year at her annual dinner and awards 2020 held at Ikeja in Lagos.
https://any.peopleandpowermag.com/we-keep-our-word-on-customers-data-safety-protection-fidelity-banks-head-of-security-peter-okoloh/