Military Police Personnel in Lagos has been admonished to sustain the best global detention practices in administering detainees in their respective custody.
This was disclosed on Friday by the Provost Marshal ( Army) Major General Aiyenigba Olumuyiwa while commissioning the newly renovated 9 Brigade Provost Company Duty Room and Guard Room at Ikeja Cantonment, Lagos.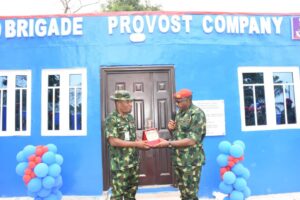 The newly commissioned project included 19 guardroom cells, Interrogation Room and the Duty Room. Others were both male and female detention facilities, the Company Sergeant Major office and officers office.
The host Commander 81 Division Provost Group, Brigadier General Mohammed Abubakar disclosed that he initiated and sponsored the renovation of the dilapidated old duty room to align with the best global standard for detection facility and military police practice.