GEN AJUNWA INAUGURATES PROJECTS AT 65 BATTALION
By Okosun Dennis
Several renovated projects executed by the Commanding Officer, 65 Battalion, Bonny Cantonment, Lt Col Mohammed Lawal, were on Friday, January 13, 2023, inaugurated by the General Officer Commanding (GOC), 81 Division, Nigerian Army, Major General Obinna Ajunwa at the Cantonment, Victoria Island, Lagos.
While commissioning the projects, he explained that only a conducive working environment and the provision of luxurious accommodation could galvanize higher productivity, proficiency, and efficiency.
Based on this thrust, he noted that the Chief of Army Staff, Lt Gen Faruk Yahaya makes adequate financial resources available, adding that the increasing number of soldiers emplaced on the force to provide more accommodation and other facilities.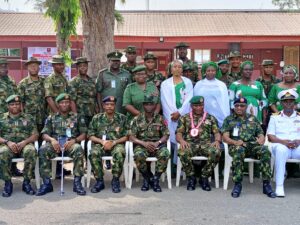 In an interview with our correspondent, Gen Ajunwa reiterated that "Most of the barracks are having a facelift and major projects are ongoing. It's a continuous process because so many of these barracks have been existing for years and they need a lot of facelifting.
"The Chief of Army Staff, Lt Gen Faruk Yahaya has been providing the resources hence new ones are being constructed as the soldiers keep increasing.
"As we maintain and give a facelift to existing ones, the COAS ensures soldiers are provided accommodation and basic amenities.
"Good accommodation and a conducive environment are needed for soldiers to be proficient and efficient. A good environment increases productivity.
Gen Ajunwa, while expressing satisfaction with the quality of work carried out added that, he was delighted to see a great improvement that has happened in the battalion, which are testimony to effective leadership and prudent management of resources.
He expressed appreciation to the COAS for his financial provision towards the realization of his mission and vision as encapsulated in his policy thrust to improve the working environment and barrack community. "We should aspire to do more and make our environment more comfortable to work and to live," the GOC emphasized.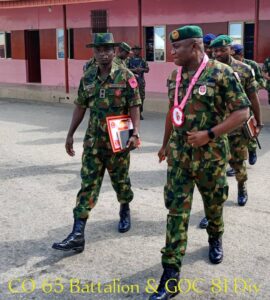 In his welcome remarks, the Commanding Officer, 65 Battalion, Lt Col Mohammed Lawal noted that the projects were embarked upon in order to create a conducive working environment for officers and soldiers of the battalion, stressing that "everything was made possible with the support, guidance, encouragement, and mentorship of Major General Obinna Ajunwa."
In line with the GOC philosophy, he emphasized, "it is our responsibility to provide a conducive working environment, optimize efficiency hence the decision to embark on the renovation of the Battalion Headquarters complex, Company offices, Saluting Dies, Quarter Guard, the Cantonment Gate, and the car park.
Senior officers from both the Army and Navy as well as the Nigerian Army Officers Wives Association (NAOWA), Nigerian Army Soldiers' Wives Association (NASWA), and Magajias attended the ceremony.
https://any.peopleandpowermag.com/gen-ajunwa-inaugurates-projects-at-65-battalion/