SYMPOSIUM: FAKE NEWS WEAPONIZED TO DISTRACT INEC – INEC RESIDENT ELECTORAL COMMISSIONER
By Okosun Dennis
The Resident Electoral Commissioner (REC) for Lagos state, Mr. Olusegun Agbaje, has said that the peddling of fake news has been Weaponized to distract the activities of the Independent National Electoral Commission (INEC) with spurious allegations, unfounded and unverifiable innuendos capable of causing a crack in its operations.
Just as the representative of the Director, Department of State Security (DSS), Mr. Paul Taylor, has vowed to deal rootlessly with any journalist who publishes any news story that is found to be fake and capable of causing security upheavals or chaos in the country.
Speaking as stakeholders in a one-day symposium organized by the Lagos State Police Command at the Officers Mess, Ikeja on Thursday, the Commissioner of Police Lagos State Command, CP Abiodun Alabi admonishes journalists to fact-check information, engage in extensive investigation and leave out when in doubt rather than publishing news stories found to be fake.
CP Abiodun Alabi represented by the Deputy Commissioner of Police, Operations, DCP Bassey Ewah, said fake news is a menace that must be put in check; adding that it raises global concern as well as poses threat to national peace and stability.
"Electoral disinformation, misinformation as well as the weaponisation of fake news along with incorrect and inflammatory commentaries pose a threat to national peace, security, and stability," he said.
The theme: "2023 Elections: Fake News and Its Implication on Security," was organized for broadcast, print and online journalists in view of the forthcoming elections with the presidential election slated for February 25, 2023.  
While urging journalists to be more responsive in their reportage, noted that fake news spreads like wildfire and if not checked, it can snowball into a catastrophe.
The REC, Agbaje also observed that apart from fake news constituting a negative trend, if allowed to persist, it has the potential to mar the 2023 general election hence concerted efforts must be made by all the stakeholders to educate purveyors of news – journalists – to shun fake news and save the country from harm.
"Social media and fake news are the biggest threats to human existence, not only to elections. Fake news is a major cause of violence in our society now. As a journalist, you should always fact-check information before publishing. We must understand that Nigeria is the only country we have and everyone must put hands on deck to ensure that there is peace."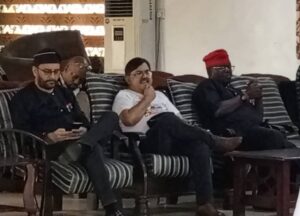 On his part, the representative of the Zonal Director, National Broadcasting Corporation, Lagos Zone, Mr. Nariyi Rikoto explained that journalists must be careful as some politicians use the media to propagate their insipid agenda and put some people in a bad light.
This, he added, makes some people lose interest in the electoral process because of fake news.
Grant and Partnership Manager, Centre for Democracy and Development, (CDD), Abuja, Mr. Thekoronye Damian stressed that lack of strong regulations coupled with people wanting to hear what suites their interest make fake news thrive, cautioned journalists to be mindful about what they churn out for public consumption.
Expatiating on the impact on the geo-political circle, added fake news doesn't only create hate speech but creates conflicts that affect National security.
Other speakers that lend their voices to condemn the negative implications of fake news at the symposium were the Nigeria Security and Civil Defence Corps (NSCDC), Nigeria Union of Journalists (NUJ), National Broadcasting Commission (NBC), Inter-Party Advisory Council Nigeria (IPAC), Nigerian Bar Association (NBA), Police Community Relations Committee (PCRC) and the Police Eminent Persons Forum (PEPF).
SYMPOSIUM: FAKE NEWS WEAPONIZED TO DISTRACT INEC – INEC RESIDENT ELECTORAL COMMISSIONER