The Commander Naval Base Lake Chad (NBLC) Baga, Commodore Kabir Mohammed has commended the exemplary conduct, professionalism and contributions of the outgoing personnel to the Base and the Theatre of Operation; HADIN KAI (OPHK).
While applauding the outgoing Base Information Officer (BINFO), the NBLC in a farewell event and media parley with journalists said the collaborative efforts of the media in ensuring a consistent and balanced reportage of NBLC, have been awesome.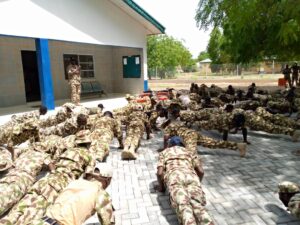 Commodore Mohammed conveyed his best wishes to their families while wishing them well in their next assignment.
Journalists from different media organisations including OPHK Radio, Channels TV, NTA, BRTV, Dandakura Radio and Metro Times attended the event.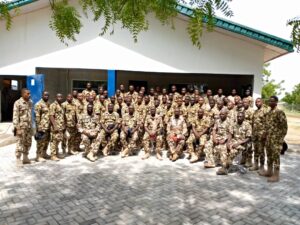 Commodore Mohammed solicited more support from the media while canvassing for a sustained relationship.
In a related development, the  Outgoing Base Information Officer, Sub-Lieutenant Tochukwu Okeke expressed appreciation to the Commander for the unalloyed support accorded him to perform his duties.
He attributed his success as the BINFO to what he called "unprecedented support from journalists covering the  Counter Insurgency Operations in the state". He urged journalists to extend similar support to his successor; Sub-Lieutenant Hamza Adamu.