NYSC DG CAUTIONS CORPS MEMBERS ON MISCONDUCT, IMPROPER DRESSINGS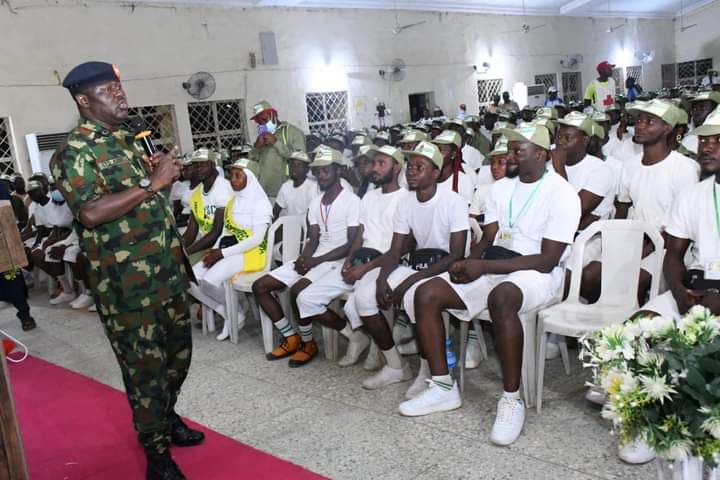 The Director General of the National Youth Service Corps (NYSC), Brigadier General YD Ahmed has warned Corps Members to avoid every form of misconduct that may lead them into trouble during their service year.
He added that violators of NYSC byelaws and other laws of the country would be sanctioned appropriately.
The Director General stated this in his address to Corps Members during his visit to NYSC Kano State Orientation Camp in Kusallah Dam Karaye and Katsina State Orientation Camp.
While congratulating them on the successful completion of their courses of study, he added that improper dressing in NYSC uniforms attracts sanctions.
"You must always dress well, especially while in NYSC uniforms. Wherever you are posted to, ensure that you respect the culture and traditions of the people you are going to serve.
"NYSC would not condone any form of indiscipline. Avoid hard drugs, hooliganism, cybercrimes and other social vices that may put you in trouble. Utilize the service year to develop yourselves," the DG said.
While presenting the camp situation report to the Director General, the NYSC Kano State Coordinator, Hajiya Halima Abdulkareem Abubakar said the Corps Members have all exhibited high level of honesty, dedication to duty and unalloyed loyalty to the Scheme.
As at the time of General Ahmed's visit, a total of 1,734 Corps Members consisting of 871 males and 863 females were registered in Kano camp.
Similarly, the Katsina State Coordinator, Hajiya Aisha Mohammed stated that a total of 348 camp officials made up of 167 NYSC Staff and 181 from other collaborating agencies including 1,292 Corps Members comprising 686 males and 606 females are working in synergy towards achieving the desired results of the Orientation Exercise.
"The Corps Members are in high spirits and ready to contribute their quota to national development", she said.