SABOTAGE: NIGERIAN NAVY UNCOVERS MULTIPLE ILLEGAL PMS DEPOTS IN NIGERIA-BENIN REPUBLIC BOUNDARY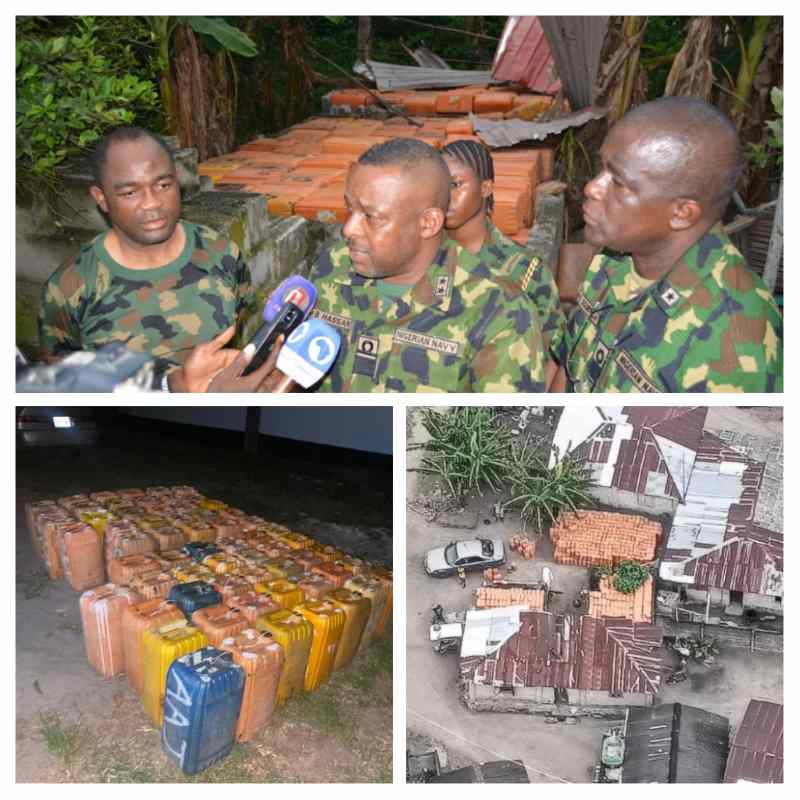 Multiple Illegal depots have been uncovered by men of the Nigerian Navy under Operation WATER GUARD which have successfully dismantled them where thousands of Jerricans both empty and filled with Premium Motor Spirit (PMS) were stockpiled.
Disclosing the discovery in Lagos on Thursday, the Flag Officer Commanding (FOC), Western Naval Command, Apapa, Rear Admiral Mustapha Bala Hassan said that in the afternoon of 15th November, 2023, the detection of the illegal depots were uncovered.
He further revealed that they were located in the Iyaafin and Itsalu Communities within the Badagry inland area and adjoining creeks along the Nigeria-Benin Republic boundary.
Rear Admiral Hassan, Commander Joint Task Force Operation AWATSE/Flag Officer Commanding Western Naval Command, who addressed journalists, stressed that his men took swift and thorough action, and combed through houses, schools, and recreational centres in the communities, and discovered a staggering number of illicitly stored petroleum products as well as empty jerricans prepared for future storage of products.
It was learnt that the operation leveraged electro-optic facilities and air assets, and successfully discovered and dismantled the multiple depots.
Expressing concern over the potential hazards posed by these activities, Rear Admiral MB Hassan urged regulatory authorities to urgently review the operations of petrol stations within the communities.
He emphasized that such intervention is crucial to preventing nefarious activities and avoiding the risk of catastrophic fires that could have dire consequences on life and property.
The Commander further assured the public that the confiscated products would be safely evacuated, and patrols would be intensified to curtail further economic sabotage.
This operation underscores the Nigerian Navy's steadfast commitment, under the leadership of Vice Admiral Emmanuel Ikechukwu Ogalla, Chief of the Naval Staff, to maritime security and the eradication of illicit activities within the nation's maritime domain for the economic prosperity of Nigeria.
Since Operation WATER GUARD began, it has made significant strides towards safeguarding Nigeria's economic interest, as the operation activated by the Nigerian Navy, is championed to combat illicit activities, and has made several breakthroughs, according to Sub-Lieutenant Happiness Collins, Base Information Officer, Nigerian Navy Ship BEECROFT, Apap, in a statement.
Present were the NNS Beecroft Commander, Commodore Kolawole Olumide Oguntuga, and many other senior officers.